1. Menu Concept and Market Positioning:
A Singapore icon since 1995 and the home of the best "flaking-off-the-bone" Baby Back Pork Ribs, this award winning rib and grill restaurant and bar serves stellar American and Continental cuisine, with an extensive wine list and flamboyant cocktails.
2. Design Concept of Bobby's @ Cuppage Terrace, Orchard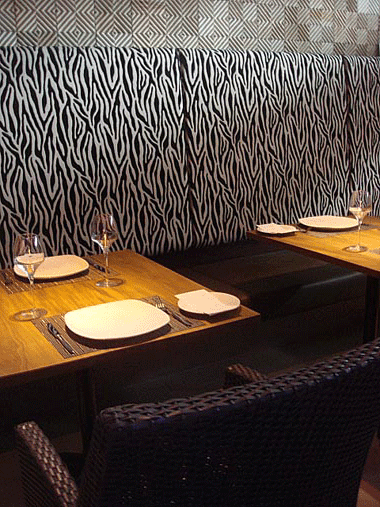 Banquette seating at Bobby's Cuppage Terrace | Day + Night
The kitchen will serve a full menu all the way through till 2:am !
2.1 Mr. Ed Poole | Poole Associates, The Interior Designer
Fans of Bobby's will see another branch opening in the newly revamped Cuppage Terrace at Orchard Road in Sept 2008. Designed by the well known design firm Poole Associates, the modern African-American style outlet is inspired by the bustle of a Harlem jazz club and showcases a wide alfresco area featuring a 13 meter long island bar with an innovative raised circular booth for a terrific view of the entire row of restaurants amongst its multiple dining arrangements.
Located in one of the renowned shopping destinations in the world, Bobby's al fresco bar is destined to be a favourite amongst the beau monde and a place to see and be seen. Bobby's modern African-American concept features "trademarked" chevron stones, custom oryx-horn chandeliers, hand-chiselled mango log tables and banquettes seats with zebra striped upholstered backrests to bring the desired softness and enhance the acoustical properties of the dining room. The ceiling has been restored to an appropriate timber plank and beam system to harmonize with the colonial look and feel of the gazetted shop houses.
The traditional rustic furnishing comprising warm teak tables and chairs all obtained from sustainably managed Indonesian forests are repeated in the Cuppage outlet and cleverly balances urban chic with the relaxed style which characterised Poole's designs.
Adding a touch of activity – a semi open concept was introduced for Bobby's modern and efficient state-of-the art kitchen, professionally designed by Peter Knipp Holdings Pte Ltd. Patrons can glimpse at the handmade wall finishes featuring yellow crackle glaze tiles which wrap the theatre kitchen and their succulent ribs and steaks sizzling over a charcoal grill before being artistically presented on pristine white plates embossed with Bobby's insignia.
Lush tropical foliage, inviting plush sofas and comfortable armchairs greet weary shoppers and tourists seeking refuge from the hustle and bustle of Orchard Road while the exquisite colonial façade of Cuppage Terrace pampers patrons with a rich legacy inherited from Singapore's colonial past. High roofing above the al fresco area shelters diners from the natural elements while allowing interested observers to appreciate the carefully preserved architectural details on the gazetted row of shop houses.
2.2 Mr. Lim Hwee Peng | Award Wining Wine Writer, Speaker, Marketer, Wine Consultant
Bobby's wine concept was introduced in 2006 to reinforce its position as a high end grill-restaurant and bar in Singapore. Mr Lim Hwee Peng, a highly respected figure in the wine trade and Bobby's appointed wine consultant was engaged to pair its exquisite cuisine with an extensive wine list featuring primarily New World wines.
Our present leather bound wine menu now showcases an impressive selection of both New and Old World wines to cater to its varied clientele.
2.3 Mr. Alistair Christie | Molotov Creative Consultants Pte Ltd, The Brand Designer
Mr.Christie creates the high-voltage Bobby's collaterals, namely the vibrant and distinguished olive green logo, signage, menu designs, business cards and placemats. He was also responsible for the art direction and copywriting of Bobby's provocative brand awareness campaign. Some of Christie's well known projects in Singapore include the Hu'u Bar, Father Flanagan's Irish Pub, Molly Malones, China One + Baize, San Marco, Brussels Sprouts, Townhouse, Archangel and Saint Peirre.
3. Key Products and Price Range
3.1 Signature Dishes
· Signature BBQ Pork Ribs
· Prime Rib Steak with Mushroom Sauce
· Harbour Catch Juliennes (Cod Fish)
· Bobby's Fish & Chips
· Bobby's Pizza (ribs in a pizza)
· South Of The Border Quesadillas (Appetizer)
· Wild Mushroom Soup
· Buffalo Wings
3.2 Special Grill and Baked Dishes
Key West Shrimp (Appetizer)

Mediterranean Lamb Shank

Bobby's Crispy Sea Catch (soft shell crab)

Chunky Beef Burger
3.3 Signature Drinks
· Cocktails: A selection of Mojitos, Caipirinha and Martinis
· Mocktail: Honey Lingers
3.4 Price range
· Appetizers - $4.5 to $19
· Mains - $20 - $38.50
· Desserts - $5.50 to $7.50
· Drinks - $5 to $18
· Wines - $60 to $160
4. Management and Organization
4.1 Ms. Felomina Krishnan | Founder & Co-Owner, Managing Director
Ms. Felomina Krishnan, a certified public accountant, revamped and re-branded Bobby's Taproom.Grill.Ribs in 2006. Redefining the traditional role of a restaurateur, Ms.Felomina is intimately involved in Bobby's evolution from its previous American Motown concept to the present vibrant modern African-American concept. She is also spearheading Bobby's aggressive expansion plans locally and overseas.
4.2 Mr. Murugam Kumar | General Manager
missing text
4.3 Mr. Henry Tan | Executive Chef
Henry's impressive cooking career spans over more than 20 years and six F & B outlets. He is an Executive Committee Member of The Society of Professional Chef Singapore and a Member of Singapore Chefs Association.
Henry started out as a Commis Cook in Apollo Hotel in 1987 and worked his way up as Head Chef in Balestier Medical Centre, sous chef in Prima Foods, kitchen operations manager in Burke's Fine Coffees, Production & Catering Chef in Jack's Place and Sous Chef in Royal Plaza on Scotts before being assigned as the Executive Chef of Bobby's Taproom. Grill & Ribs in mid June 2008.
Henry was tasked with the responsibility for overseeing the cooking for the People's Association Awards Presentation Dinner held for Grassroot Leaders in 1998 and The Prime Minister's Reception for Private Sector Establishments in year 2000 which was graced by Prime Minister Mr Goh Chok Tong and many other Cabinet Ministers and Members of Parliament.
Henry was also the 1st runner-up in the soshoik.com's New Singapore Dishes Cooking Contest 2008 held in association with the Singapore Chefs Association & SHATEC in the Professional Category.
The newly appointed Executive chef plays an instrumental role in revamping and upgrading Bobby's menu concept. He is also charged with quality control and training in all company owned branches and future franchised outlets.
4.4 Jeffrey Yu | Chef de Cuisine
A Chef de Cuisine at Bobby's and a Malaysian by origin, Jeffrey has been intimately involved in the creation and evolution of Bobby's menus since the year 2000. Jeffrey demonstrates his culinary agility in reproducing classics and concocting new signature dishes and sauces for Bobby's American and Continental Dine menu. His skill culminates in Bobby's highly sought-after event menus as well as its perennially popular Valentine's and Christmas menus.
Amongst his list of achievements is Bobby's very own unique BBQ sauce, the glazing for Bobby's Signature "flaking-off-the-bone" baby back pork ribs and the base for Bobby's Pizza. Jeffrey's culinary skill and innovative spirit has garnered many accolades and awards for Bobby's thereby establishing its iconic position in gastronomic excellence in Singapore since 1995.
The restaurant's signature dishes—stellar contemporary American favourites, such as its BBQ Beef Ribs and Chicken Cordon Bleu have remained unchanged and represent Jeffrey's unstinting attention to the basics and details, while the newly introduced creations on the menu are modern and contemporary interpretations of today's ever-evolving American and Continental cuisines.
4.5 Jack Ho | Pastry Chef
Born into a family of bakers and trained at the Institute of Technical Education in Baking, Jack's skill in haute pastry making is evidenced in the exquisite confections he created for Bobby's ever evolving dessert list.
His mastery in the rudiments of bread, haute pastry making and the finer art of cake decorating and aesthetic presentation was acquired from his years in the family patisserie and the California Café Bakery & Deli, another outlet owned by the previous owner of Bobby's.
A true artisan in his field, Jack's passion is in introducing novel and innovative creations as well as providing diners with a sweet grand finale to their gastronomic journey at Bobby's.
Jack's greatest legacy is perhaps the rich and moist chocolate brownie used in Bobby's Chocolate Volcano, a dessert which has gained a cult following and drawn many a pilgrim to Bobby's.
4.6 Mr. Rajaratnam Rajagopal | Finance, HR & Admin Manager
An accountant by profession, Mr. Raja is in charge of the finance, human resource, administration and IT of Bobby's. He established a systemized accounting system and oversees the company's computer network critical for the smooth back end operations necessary for supporting Bobby's network.
OPERATION HOURS
Sunday – Wednesday 1200 – 0100 hours
Thursday – Saturday 1200 - 0200 hours
ADDRESS
Bobby's Taproom. Grill. Ribs
30 Victoria St
# B1-03 Chijmes Fountain Court
Singapore 187 996
Tel: (65) 6337 5477
Fax: (65) 6337 5466

Bobby's Taproom. Grill. Ribs
25 and 27 Cuppage Terrace,
Cuppage Road, Orchard
Singapore 229454
Web: www.bobbys.com.sg
Reservation for Dining: sales@bobbys.com.sg