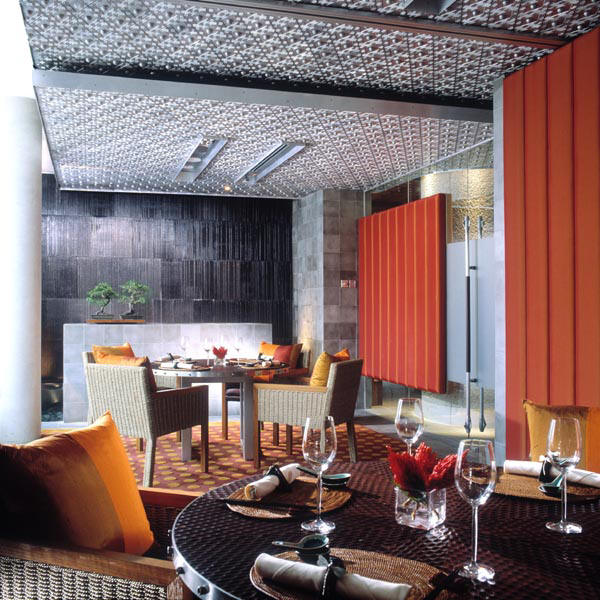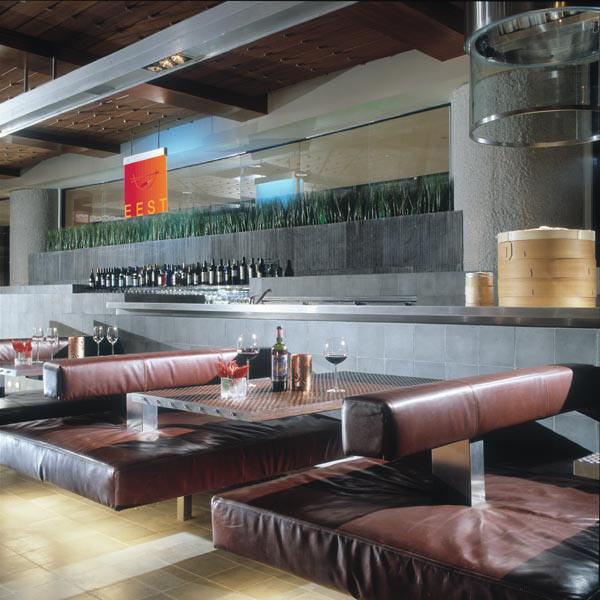 FIVE COUNTRIES, FOUR SENSES, ONE OASIS….
WELCOME TO EEST, KL'S NEWEST PAN ASIAN EXPERIENCE


Introduction

EEST is the first of its kind in Kuala Lumpur. A Pan Asian restaurant featuring five distinct and authentic Asian cuisines in one restaurant, EEST offers Japanese, Vietnamese, Chinese, Thai and Malay cuisines, prepared with authentic recipes and presented with a modern and innovative twist.

From the interior and architecture of the restaurant to the remarkable culinary and beverage menu, right through to the five individual 'open kitchens' for each distinct cuisine, the dining experience at EEST is a reflection of a modern day culinary adventure.


Cuisine

A visit to EEST is a voyage of discovery. You can watch the 'live food show' while seated unusually low to the ground in earthy leather booths, that heighten the terracing effect of the architecture. Sitting there, one can smell the tantalizing aromas of the different cuisines, hear the sounds of water trickling in the background in the neo-modernist environment, notice the vibrant colors of the food being prepared and eventually taste the exquisite cuisines prepared just for you.

For the most discerning gourmet diner, EEST is a feast. While traditional Asian fare will still be on the menu, one must try items from the menu that are considered modern and innovative in their culinary presentations; each of the five distinct cuisines are served on five different sets of cutlery and table ware that have been specially designed to represent their country of origin.
For the Japanese selection, EEST serves a good selection of Nigiri Sushi and Sashimi on top of the essential Teishoku and Teppanyaki sets. The Teppan Kuruma Ebi - King tiger prawn with asparagus and fish roe is vital for your palate if you are a seafood lover! The freshness of this wonderful crustacean is retained with a special touch : delicately seared by one of our specialist chefs!
You would not expect a restaurant that serves five different types of cuisines to also have an authentic Chinese Dim Sum menu. This is what EEST specializes in; they are the most sought after entrées patrons request to start off their meal. Without a doubt, EEST is becoming known for having one of the finest Chinese Chefs that specializes only in Cantonese Dim Sum making. Take note of his own hot steam kitchen in the midst of the Zen restaurant!
What can be said about authentic Malaysian cuisine other than Tahu Sumbat, Sup Ekor and Ikan Bakar? They are amongst the many signature Malaysian dishes that are found in EEST. All are made from traditional Malaysian recipes, presented in a fascinating & innovative style- something diners can equate with having very local 'street food' in the heart of the modern restaurant environment.
EEST is also the perfect place to dine if a bowl of stimulating Vietnamese hot soup noodles is what you have been craving for. Offering a selection of homemade rice noodles with your choice of meats and flavors, the Vietnamese noodle kitchen features a selection of starters, Gui Cuan Nuoc Leo- stuffed rice paper rolls, Chao Tom Nuong Mia- barbecued shrimp on sugar cane, and Nom Ngo Sen- delicate lotus root salad; that can be part of your gastronomic escapade.
Last but not least, the Thai selection of EEST's cuisines includes items on your must-try list. Taking on a more innovative twist, the Keang Kiew Wan Kai - stuffed chicken leg with green curry sauce is highly recommended. The grilled scallop on lemongrass skewer will impress you with its pretty presentation and will only astound you further after tasting. The fragrance of the lemongrass enhances the natural flavor of the scallop, leaving you craving for more.
Finally select from the menu your choice of desserts from the Asian Sugar section. Featuring the best of all countries, take your pick from stewed Bird's Nest, Fresh Mango with Sticky Rice, Tapai Pulut with Durian ice cream to the all time favorite Tham Thim Krop- water chestnut with jack fruit, they are all homemade items EEST features.


Beverages

Besides wines, champagnes, cocktails, mocktails and a good selection of beers, EEST also specializes in herbal infused blends that include Elixirs, Tea Spas and traditional Chinese Teas, including the rare white tea Pai Mu Tan.

EEST boast more than 300 wine labels; ranging from California, France, Australia and New Zealand. For the more adventurous, EEST recommends their very own list of cocktails- created specifically for EEST. The rich concoctions of Western liquors, infused with fresh Asian fruit juices are probably one of the most fascinating drinks in and around KL.

In addition, EEST also features Asian brewery favorites; Asahi, Kirin, Tsing Tao, Chang, Tiger and Singa. From the Rice Paddy Section, there is the Chinese Nu Er Hong, unique assortment of EEST infused Sakes served by the carafe and Schochu by the glass.


Architecture & Interior

Cross the entry bridge overlooking the hotels' grand Lobby, pass the soothing sounds of a water landscape and enter the unique ambience of EEST that can be described as the manifestation of Asian craft articulated in Western neo-minimalism. This spectacular 8,900 sq ft restaurant features a ceiling made of antiqued metal tiles. Amazing cast aluminum zhou vessels are the centerpiece of attraction.

Entering the space via a 'floating bridge' that is flanked by a timber clad lifts; the space opens onto a modernist Japanese style diner area with volcanic stone walls.

A large overflowing "I Ching" pond takes center stage at the pre-function area. Granite and timber slabs offer tranquil areas to sit and enjoy pre dinner cocktails. Hand carved adz finished tables, the incised ceiling tiles, chiseled concrete columns, sculptural carpets and abaca seating add deep textures to contrast with the silk walls and smooth volcanic ash floors. Sensual textures to compliment the sexy cuisine.

The restaurant is definitely a masterpiece in design and originality. The sushi and dim sum counter is structured with volcanic stone, with a waterfall cascading in a manner reminiscent of rice terraces. The floating water feature and the monumental vessels cast in aluminum, all emulate a modernist Chinese Courtyard setting, perfect for that special lunch or elegant evening out.

Have your own EEST experience from one of our five private rooms; intuitively named Coriander, Thyme, Tamarind, Cinnamon and Lemongrass after the primary Asian spices used in EESTs' exquisite cuisines. Each room reflects a different mood with varying color schemes and layout. The Tamarind and Cinnamon rooms behind a gold wall seat 12, or can be joined to seat 24. Privacy is maintained with frosted glass walls and acoustical treatments.

EEST is situated above the lobby level of the hotel, and can take 180 diners at any one time.

Entertainment

The latest Euro-lounge vibes with ikebana sensibilities.

Summary

We now know why EEST was created. There is nothing like it in KL. Your senses will be taken on a journey to a Pan Asian cuisine oasis- an oriental affair not to be missed by the adventurous. One that depicts originality while exuding the experience of tranquility in the midst of the bustling city… five countries, four senses, one oasis… The Westin Kuala Lumpur proudly presents EEST.


Operating Hours

EEST opens daily from 12:00 to 14:30 for lunch and 18:00 to 22:30 for dinner. EEST is closed on Monday.
Starwood Hotels & Resorts Worldwide, Inc. is one of the leading hotel and leisure companies in the world with more than 740 properties in more than 80 countries and 110,000 employees at its owned and managed properties. With internationally renowned brands, Starwood is a fully integrated owner, operator and franchisor of hotels and resorts including: St. Regis, The Luxury Collection, Sheraton, Westin, Four Points by Sheraton, W brands, as well as Starwood Vacation Ownership, Inc., one of the premier developers and operators of high quality vacation interval ownership resorts. For more information, please visit www.starwood.com
** Please contact Starwood's new, toll-free media hotline at (866) 4-STAR-PR
(866-478-2777) for photography or additional information.*