PENTHOUSE III
Hong How Corporation

Eucalyptus veneers cover door panels which fold open on custom pivot hinges to expose a home theatre system.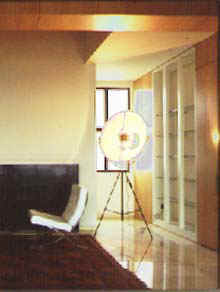 Serving as a mantel-piece the integral bar is clad with Verde Pinta marble. Contemporary classic furnishings provided by X-Tra Designs compliment a timeless interior.
A Penthouse in Holland Village, Singapore
Rachel Teo of the Hong How Corporation commissions Poole Associates Private Limited to design the interiors of this 4,500 sq.ft. penthouse unit located at 90 Holland Road, Singapore.
The brief was simple, retain all existing floors and walls, but create features that would attract potential end users in this high rent district.
With no specific end user in mind, decisions as to what constitute the finer points of modern luxury living were to be constructed into the 'standards' of this unit, while remaining 'functionally economical' in a changing marketplace.
The large living area was given an integral bar, with the adjacent ceiling raised to create a focal wall where monumental art could be displayed. Australian Eucalyptus veneers were used throughout the apartment unifying the rooms with a common 'exotic' material. Book cases and artifact niches break-up long lines of custom cabinetry. Full height door panels upholstered in deep red mohair open to expose a 42 inch rear projection Tv, altering the space to give the illusion of a private screening room.
Bed-side reading lamps, an open air BBQ off the family room and a euro-kitchen complete the penthouse for the inclusion of personal effects.
Project Team :
Andrew Jones, Ed Poole, Wong Kim Mei
Photography : Poole Associates
Additional photos and text go to:
Zenith Magazine 'Abode-Modernism'