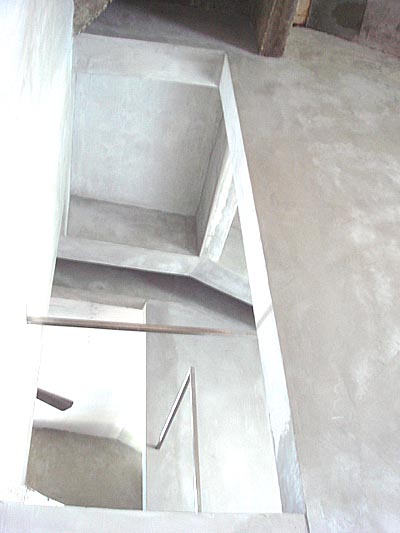 Focal point: With its five metre-high ceiling in raw, unfinished concrete (above), the living room is the most eye-catching space in the apartment.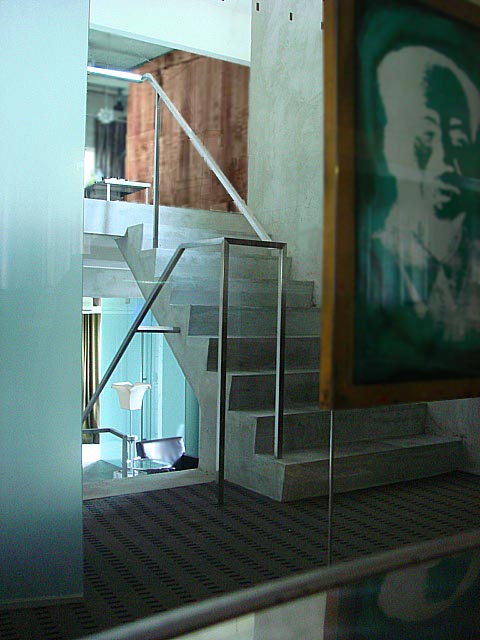 View from the office towards the upper level Kitchen, and lower level Library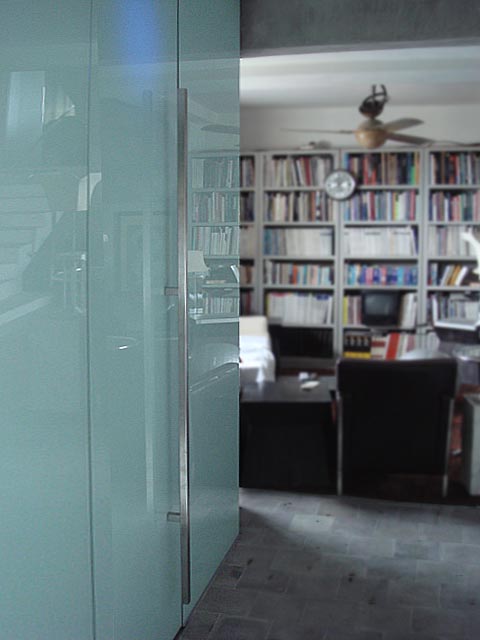 The Guest room and Library with a glass pod encasing the toilet.
The office space : formerly three bedrooms and two baths
Tree stump tables in the meeting area and living room. Select pieces were used at the W Retreat & Spa, Maldives. No longer the raw space it was 7 years ago, the renovations are approx 80% complete.
FOR a man behind some of the top designer restaurants and bars in town, not to mention the region, it's ironic that Ed Poole's own living space is still a work in progress.

Despite having lived and worked at his Pearl Bank penthouse for the past seven years, he shows you how he has only paid attention to its decor only in the past couple of years. He points out the living room floor - once marble, now solid wood planks. His patio was recently marbled, and for years, a stack of grey compressed volcanic ash tiles were stacked in a corner of his kitchen until two years ago, when he finally decided to replace the aging mosaic tiles.

Perhaps you could call it a deliberate rawness, but it's one which blends with the surrounding retro-ness of Pearl Bank. And it's this blend of individuality and anti-style - not to mention Poole's standing in the creative community - that his Penthouse One has been the site of many a photo shoot for fashion magazines and even TV programmes or commercials. Just this year, it was featured on the June cover of iSH magazine. Major scenes of Pleasure Factory, a new film by Ekachai Uekrongtham, which premiered at the Cannes film festival in May, were shot at Pearlbank Apartments. Cond

é Nast Traveler came to shoot images for an upcoming issue, and Penthouse One was also used as a location for two episodes of Sony Style [Sin : AXN Chanel 19 8:30pm Fridays]

Standing in it, you can understand the attraction. Poole's Pearl Bank penthouse is an amazing space of 4,000 sq ft, split into multiple levels so that the office and the personal spaces - living room, bedrooms and guest rooms - flow with ease into each other, but are also kept separate by concealed doors and level changes.

Clients walk into the kitchen area for example, and go down a level to the office space (the first place to get a complete makeover when he first moved in). Another level down and it's the 'library' or reading area that staff can use, which leads to a guest room for friends and even clients. From the kitchen area, it's a split level away from the living room, which is on a raised platform, and then stairs leading up from there go to the master bedroom. At the 37th floor, one gets a bird's eye view of the southern part of Singapore, with a clear view of the sea.

It's no wonder the American architect-turned-interior designer is upset that the 31-year-old horse-shoe shaped apartment is under the en-bloc threat. It's not confirmed yet that the en-bloc will happen, although Poole has already made arrangements for a legal objection if and when it might, with Drew + Napier LLC throwing the punches.

Besides the fact that no en-bloc compensation will be sufficient for him to relocate his office, Pearl Bank is simply a great space, says the architect. 'Its design is ahead of its time,' he gushes. 'All units here have split levels and the rooms in them have different shapes and are of different scales. The spaces are all different.

'The thing that irritates me about new apartments is that all the rooms are the same, like cubicles. They're really boring.'

Poole is a well-recognized name in the local design circuit, and it may come as a surprise that his coming to Singapore was a bit of an accident. He had actually planned to migrate to Australia from his native Chicago, but while on a trip to Jogjakarta, descending from a volcanic mountain, the bus that he was in went down so quickly that his eardrums were affected. He got so ill from the subsequent infection that he was eventually sent to Singapore for treatment. He landed up at Singapore General Hospital, in 1989, and has been here since.

'I'd no intention of coming to Singapore,' the 47 year-old confesses, barely having even heard of it. But he figured that since he was here, why not send out some résum

és - since he was already licensed as an architect in the United States and Australia - and try to get employed.

The Illinois Institute of Technology graduate got 12 acceptances from his 12 job applications, got attached to a firm, but left after eight months to start his own business.

Why the switch to interiors? 'Because it's instant gratification!' he quips. 'For a start-up, it's just faster to build up a reputation when you do interiors,' he elaborates. 'You can build up a portfolio faster, than if you did architectural projects which would take a few years to be completed.'

One food and beverage job led to another, and before long, Poole was recognized for his design aesthetics for F&B projects; including a few which have won global awards such as the Cond

é Naste Traveller award for his F&B outlets at the W Retreat & Spa in the Maldives. 'Getting an award for that was a total surprise, as we hadn't applied. We never submit our work for awards or prizes. So I think someone from Starwood New York must have done it,' he says.

With the various interior design jobs he does, many for which he hunts down unusual and striking artifacts or furniture, it's no wonder that some of his finds end up in his own place.

He has these wavy, accordion-like tree stumps in various heights, acting as steps up to his living room which is on a raised platform. These were left-overs, after the best of the lot had been chosen for a hotel project.

Poole's own aesthetics for his living space sees an eclectic but well-blended mix of old and new. Persistence seems to be his suit as well - a key to getting the right items. The length of old wooden door panels stretched across one wall in his living room came from an old medicine shop on China Street which he'd eyed for years, which he finally got (after four years) when the owner's deal to sell it overseas fell through.

The open, airy living room space is in fact, the most stunning in the apartment, with its five metre-high ceiling in raw, unfinished concrete. 'The ceiling is what most visitors rave about in the living room,' he says.

And then there's the wall of antique mirrors he's collected over the years, at a time when they were sold for only a few dollars at thieves' markets.

Penthouse One was also a long-awaited acquisition. Poole's first residence and office in Singapore was actually in Pearl Bank also, but in another penthouse which was rented. Since he'd lived there for 3.5 years before, he knew it was an ideal space for a home office. 'But the penthouses rarely ever come up in the market,' he notes. But since he'd put the word out that he was a keen buyer, when this penthouse came in a mortgagee sale, the bank had called his agent and Poole snapped it up.

In fact, although he's moved homes and offices a few times in the past 15 years and more, he's always stayed within a two kilometre radius of Chinatown, he reckons.

'The people recognize me here, which is nice. There's a shop selling Chinese cookies which I used to patronize, and just the other day, when the guy ran into me in the street, he asked me to come by for freshly-baked cookies.'

'It's little things like that, that make the difference, when you've lived in one place for so long. It'll be devastating if I have to move.'

Singapore Institute of Architects (SIA) will be organizing a Architectural Festival during November and December. As part of this ArchiFest, we have Architectural Tours which will bring Architects, Designers and students to visit several iconic buildings in Singapore. One 'open-house' will be Penthouse One - Pearlbank. Please contact Geraldine Ng at the SIA for reservations: archifest@sia.org.sg