Mixture of Old and New : A minimalist staircase rail contrasts against the old timber doors [in the background] salvaged from his old office.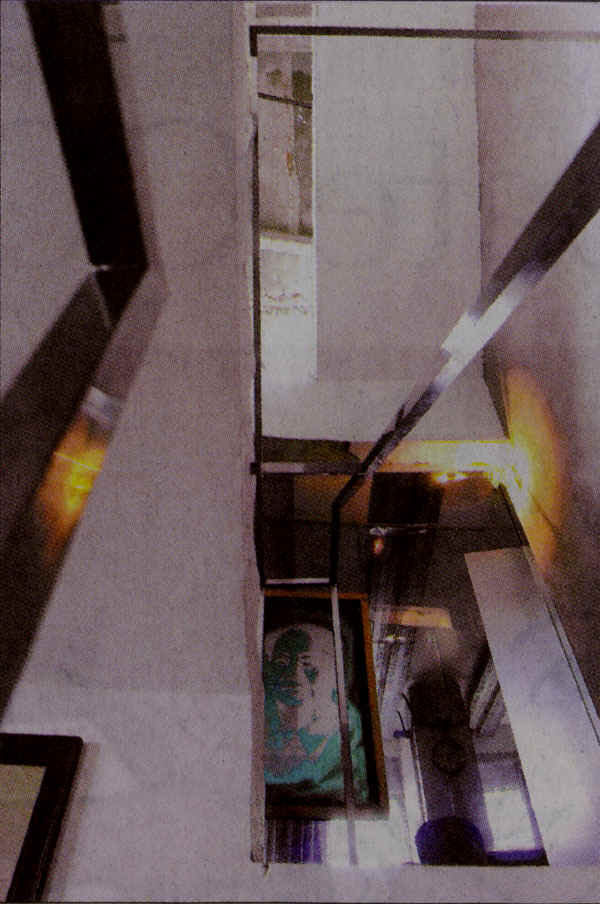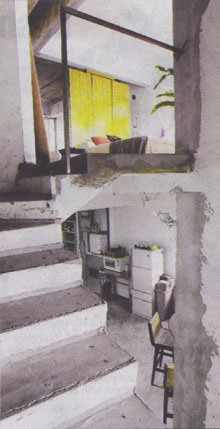 WORK IN PROGRESS, DO NOT DISTURB :
The steps and walls leading to the master bedroom level in Poole's split-level penthouse retains the uncompleted look. The American architect - interior designer thinks his home will never be finished - a constant work in progress.
Update April 2007
Hardly the raw construction site of 2001, Penthouse One is nearing total transformation.
Above : Upon handover of keys in Nov 2000. Existing hopper windows are converted to full length glass, planter boxes removed and new marble installed. Right : April 2007 >
Today, only Poole, a bachelor, lives there. But in conditions that seem no better than a construction site.
"In my job, I deal with construction sites all the time so to be living like this is nothing unusual," he says.
Being a qualified American architect probably has something to do with this too.
Admiring the original spatial quality of the apartment, he acknowledges that the original architect of the building actually "did a great job".
This became more apparent after he ripped out 14 truck loads of debris consisting mainly of false ceilings, wires, ducting, grimy cabinets, make-shift partitions gaudy tiles and every non-structural interior wall.
When all these came down, one of the first things that was revealed was a bizarre concrete ceiling with massive concrete beams that also made up the sloping roof of the building.
Left exposed, it could only be described as "Modern Gothic".
The ceiling had a certain raw appeal and he resisted making any changes to it.
In this rough state, the ceiling is strangely beautiful but ceilings are where most of the electrical wiring for light fixtures and air-con ducts are normally run.
In this apartment, the wires lie in a tangle on the floor instead and there is no air-conditioning in the living areas.
Says Poole: "If there is one thing I noticed about homes in Singapore, it is that people depend too much on air-con. It's not necessary especially when your located 560 feet above sea level".
"I have had neighbors come here and say that they can't believe that the apartment can feel so cool without air-con. I tell them it's because they have too many fixed walls, obstructing cross ventilation".
"This is tropical living."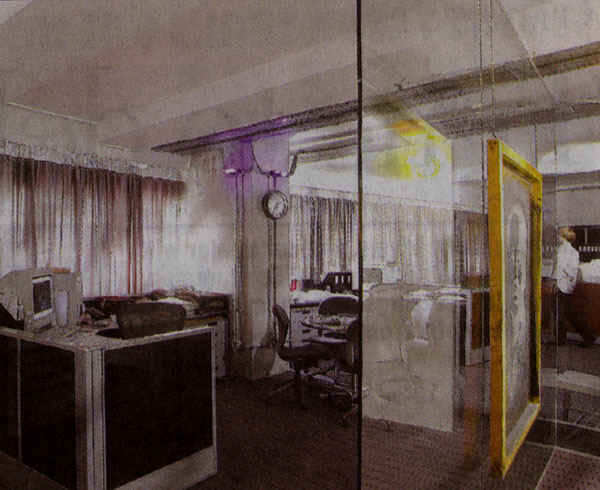 MAN ON TOP : This Chairman Mao silk-screen fritt, seen from the stairwell [right], marks the partition in Poole's office [above]. It's a remnant from the artworks created for Front Page and Next Page at Mohamed Sultan Road. Hanging on a glass partition, the transparent nature of the silk screen fritt is used to full advantage.
O P P O S I T E A T T R A C T I O N
Of course, in anybody else's hands, this apartment would look like the construction that it is. However, Poole has an uncanny talent of putting discordant elements together and making them look chic.
A case in point : The Charles Eames white leather chairs in the main living space against timber doors he salvaged from an old sin-seh shop in Pekin Street.
Even exposed wires hanging from the ceiling in the kitchen look like a designer statement.
But Poole does get some help from interesting conversation pieces that have histories linked with his old projects.
The old negative of a Chairman Mao silk-screen hanging outside his home-office never fails to attract attention. It was leftover from the very first House of Mao restaurant in China Square.
Some will recognize the collection of Peranakan mirrors in the kitchen because they once hung at Qhue, another trendy restaurant Poole designed (which is now gone) in South Buona Vista.
There is a sofa that looks like it might have come from Front Page bar and coffee tables that were meant for another bar, Asian.
His dining chairs came from Café Iguana in Riverside Point as "the client ordered another size".
"I hate to see stuff thrown away," he adds.
There is a patina of age to everything and nothing seems new or over-designed. Even more important perhaps, is that nothing looks pretentious.