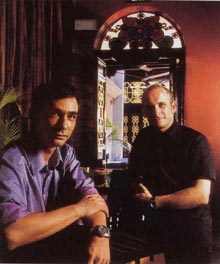 Jean-Philippe Trieu (left) conceptualized ASIAN in Paris and now brings it to Singapore. Laurent Greco is the bar consultant who makes sure the drinks at ASIAN are on par with the premium watering holes in Europe > more about AFBC and the team Here
The Water Court offers a tranquil environment with richly detailed timber screens and doors. An antique Chinese pot takes center stage.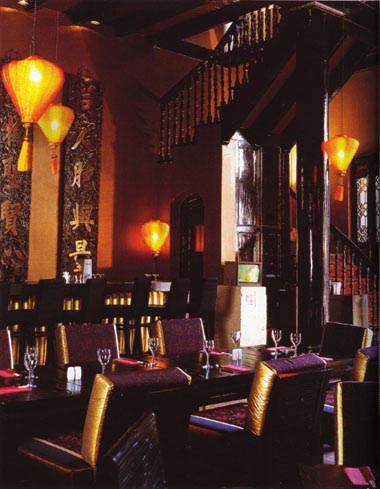 The ASIAN concept here follows the original that was conceived by Jean-Philippe for his Parisian restaurant of the same name that opened in the heart of Champs-Elyseés in 1996. The 37-year-old French Vietnamese (his father Trieu Van Lang is Vietnamese and his mother Claude Catteau is French) credits his dual heritage as the inspiration behind ASIAN.
"I realized that many Europeans still imagine Asians wearing bamboo hats and working in rice fields," he explains. "I wanted ASIAN to be a place that would show the Asian culture as sophisticated as it is. A place that rejects the idea of pandering to stereotypes." Jean-Philippe's updated interpretation of Asian cuisine and style struck the right cord with the French who have always held a strong fascination for the Chinoiserie style, thanks in part to its history of empire in the Indochina region.
However, Jean-Philippe was not convinced the idea could work in Asia itself until a visit to Singapore in 1999 in search of a new chef for his Paris restaurant. The Singapore Tourism Board introduced him to Andrew Tjioe, the dynamic CEO of Tung Lok who's known for his daring to experiment with new-fangled and fusion dining concepts like the House of Mao and Club Chinois. After five minutes, the two found common ground and Andrew was busy persuading Jean-Philippe to open a second version in Singapore. "I thought it was crazy to come to Asia with the ASIAN concept," he says. "But after talking to Andrew, I realized that there are Chinese and Japanese restaurants but no restaurant that encompasses several cultures."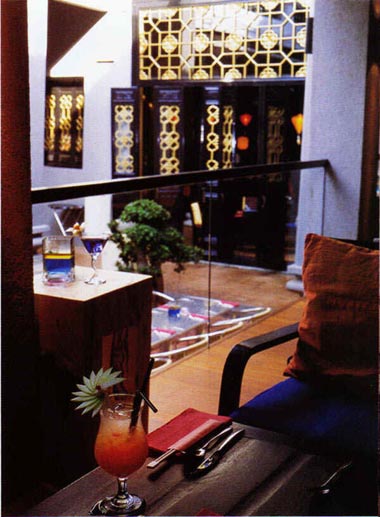 View of Le Jardin from the raised lounge under the eaves. Sculpted tree logs, inspired by building forms at Le Defense, Paris are used as side tables, hand axed in Bali. Available exclusively from One Degree North Limited
East and West, old and new, calm and frenzy collide and coalesce at ASIAN to create a heady club thick with atmosphere, treading the fine line between cool and clichéd. You can't help but notice the lovely bevy of welcoming girls when you step into the entrance portal. But forget and Sim Poh Poh Bar connotation. Before you can catch your breath, they would have escorted you up onto the narrow raised wooden platform traversing the open courtyard, Le Jardin, that delivers you straight into Le Bistro's ground floor dining room. Flanked by alfresco seating and a raised lounge area under the eaves, the platform seduces you to strut like a model on a catwalk.
Le Bistro with its low slung seating is designed for casual dining and drinks. The ubiquitous sushi bar pops up here, too. For more sophisticated eats, you've got to move to upstairs to Le Brasserie. Hung with fabric curtains on all sides plus a beaded one as a partition device, the decor is slightly reminiscent of a courtesan's boudoir.
Draperies made of different printed fabrics and stainless steel beads are hung on all sides of the more formal dining zone, Le Brasserie, on the upper floor to create a softer and more feminine feeling. Gray fabric on the right is actually fine stainless steel and silk, hand woven in India with painstaking patience. Drapery on the left is made up of stringed beads - activated by the air conditioning, for the effect of twinkling water droplets.
But whether you choose to dine formally or snack casually, you are in the capable hands of chef Sam Leong, Tung Lok's director of kitchens who was recently voted the Best Asian Ethnic Chef at the 2001 World Gourmet Summit Awards of Excellence. Concurrently responsible for Jade (another Tung Lok restaurant) at The Fullerton Hotel, Sam has orchestrated a menu for ASIAN that includes traditional Vietnamese pho and spring rolls, Tung Lok's famous dim-sum, and contemporary Chinese dishes like pan-seared beef tenderloin and steamed fish fillet with exotic sauces.
Any club professing to be a hotspot must come equipped with a great watering hole and ASIAN has got its bets well covered. There is not one but three different bar counters spread throughout: one each in Le Bistro, Le Brasserie and Le Bar. More important is the fact that Tung Lok (ASIAN Singapore's joint venture partner has hired Laurent Greco as the bar consultant. Laurent's past projects include the original ASIAN as well as the stylish Buddah Bar in Paris. And he has created some interesting concoctions with names such as Kamasutra and Sex Fire to fuel ASIAN's sensual mood.
With so much 'heat' generated, you can either chill out indoors at Le Bar, nurse a drink, bob to the music and watch whatever's playing on the plasma screens or cool off alfresco in the adjoining Le Cour that boasts a water-fountain as a centerpiece. Dramatically lit with golden yellow light in the evening, there's a drowsy, lazy kind of feeling about it all.