& JetFM
T H E B R I C K S T O T H E C L I C K S
Located at lobby level, Menara Olympia, 8 Jalan Raja Chulan, Kuala Lumpur Malaysia. located at lobby level, Menara Olympia, 8 Jalan Raja Chulan, Kuala Lumpur Malaysia.
A Showroom and Demonstration Center, Account Enquiries, Media Lounge, Financial Services Center and Grappa Espresso Bar. Opened 16th May 2001
Olympia Leisure, the parent company to the Grappa restaurants located at Soho, Bukit Bintang, KL and Grappa Bangsar Bahru, KL, called us to develop a new Grappa Espresso concept that would tie-in with the Service Center for JetFM, Malaysia's first internet stock broking firm.
The awkward marble clad space for the project was an empty mini shopping mall located at Menara Olympia, in which the rambling 8,500 sq ft space had a section where the ceiling height extended 5 floors up. Chrome clad escalators crossed one side of the space - and large windows on the opposite side opened up to a grand view of the cark park entry and a plain brick wall.
Acoustics would pose a problem, and the cold, imposing feel of the volume did not sit well as a pleasant environment in which to relax during a lunch break.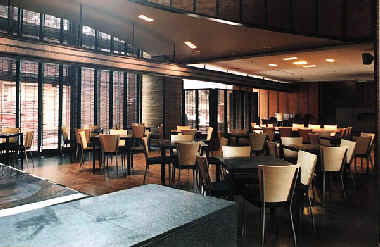 Relating an Italian aspect to the Café, we chose to manufacture custom tables made from black Italian marble, that would also carry through to the surfing station tops at JetFM.
A Modernist approach to the architectural fit out was chosen to represent the advanced facilities and services offered, but as the room was very cold and imposing, we chose to express the finishes in the opposite way - the most low-tech method possible. Thus, a series of bamboo, woven rattan and plain timber plank planes were designed to soften the space and add a personal, warm character. The comfort of these materials also helps to lessen the 'fear of technology' as sometimes expressed by the JetFM clientele, as they learn how to control their stock portfolios over the internet.
Many tenants in the building are in the financial business, thus, the JetFM Media Lounge was created to cater to these patrons. Guests can relax in leather sofas, catch-up on the latest news via CNN, and view real-time stock quotes on the overhead scroll-bar system which spans the Café and Lounge. In the next few weeks, other financial news will be available, viewed from a holographic image hovering between the Café and the Lounge area.
Simple, quick Italian cuisine is served at the Café, wood fired pizzas and pastas along with fresh cakes and excellent coffee.