By Koh Boon Pin : The Straits Times
Dec 20 96 : update Jan 03 : Dec 06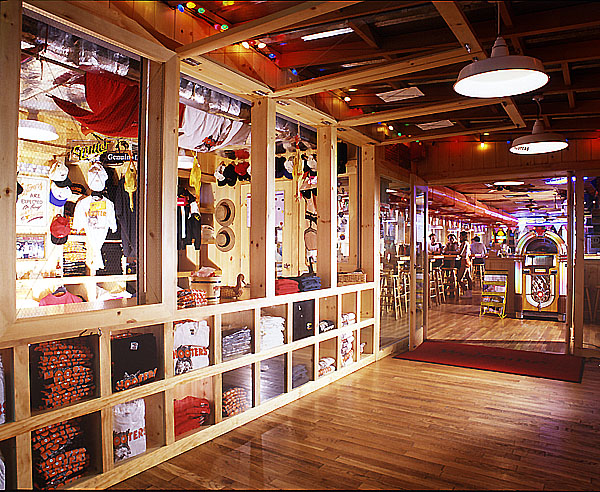 The 'Hooter Coop' at the entrance to the restaurant is an addition to the chains standard details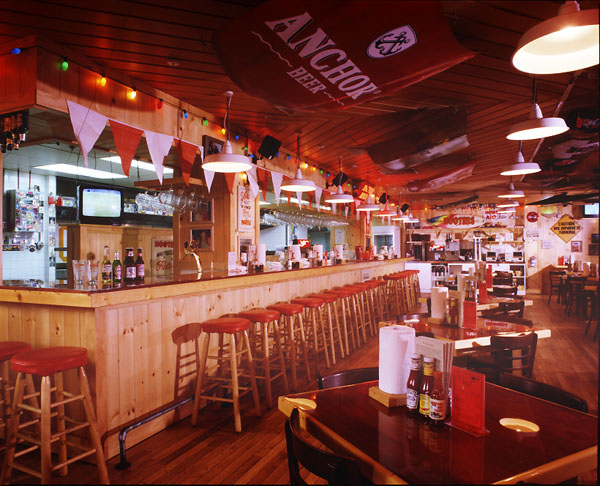 There are now hundreds of Hooters outlets, including Nottingham and Birmingham England, Taiwan, Canada, Aruba, Bahamas, Mexico and Puerto Rico
A smoking verandah fully opens to the views at Clarke Quay, from the second floor of the building
The dining area features lots of pine planking, cedar tables and pine chairs, for that charming southern-shack look. Hooters of Singapore is the 195th outlet in the burgeoning chain, and has the honor of being the first outlet outside of the USA
There's lots of neon, a 50's Wurlitzer juke box and "fun, fun, fun, till daddy takes the T-bird away"
Rubber chickens hang from the ceiling of the open kitchen, proclaiming: "I will die for my country!"
Nothing better than a bucket of beer, hot chicken wings, and the company of the soon to be famous Hooters Girls
Project design team:
Ed Poole, Rey Tadifa, Wong Kim Mei, Willy Baet
Photography : Peter Mealin
Miss Hooters International : 2010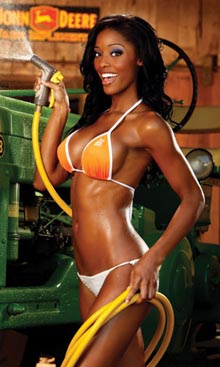 H O O T E R S O F S I N G A P O R E
Girls must give a hoot to hair, makeup and pantyhose
Waitresses in tight tank-tops and short shorts highlight Hooters, at Clarke Quay, Singapore.
Ask the girls of Hooters about their most obvious physical features, and they do not seem to give a hoot - to use an American slang expression.
The famous chain of restaurants from the United States with an owl in the logo has opened its first Asian outlet here at Clarke Quay.
It is noted for waitresses who wear short shorts and tight tank tops, which display their "hooters", American redneck slang for breasts. Indeed, the food and entertainment seemed to be an afterthought at the launch party.
The American Hooters girls, "doing the business" at Hooters of Singapore, demonstrating the finer points of Hoola-hooping to the Singaporean trainees.
But no, the girls insist, they are not being exploited for the size of their bosoms. No, they claim none of their assets are fake. And no, they have never been manhandled by drunk diners.
Whether it is their personal belief or some public relations spiel that they have been taught to spout, it is evident the restaurant is keen to stay away from the somewhat sleazy image its name conjures up.
According to a Washington Post Magazine article in July, half a dozen sexual harassment lawsuits have been filed over the years in the US by a total of 15 former Hooters girls.
All allege an atmosphere that "subjected plaintiff to an endless torrent of sexually inappropriate remarks, demands for sex and uninvited touching that created a situation in which no reasonable woman would have continued to work".
According to the report, four of those suits have been settled, and two were still pending.
But lawsuit or not, it is clear the restaurant's owners feel that breasts make for good business. At least $50,000 worth of business a day or so they hope.
Fitted with cedar tables and pine chairs, an open kitchen, TV's showing sports and music from the 50's to the 70's, the ambience in Hooters is geared decidedly towards men. On the walls hang various signs. One says "Double Curves".
Forget about women's movements, breaking through barriers and things like that. The Hooters Girls, as the waitresses are called just want to have fun. After all, the opening motto in its 30-page employee handbook pronounces: "A fun place to work!"
But fun, it would appear, has a few commandments of its own.
In the same handbook, it states that "Hair is to be styled at all times", "Makeup is to be worn at all times", "Pantyhose is to be worn at all times", "White bras are to be worn at all times". The list goes on.
Exemplifying this look extremely well is 25-year-old Ashley Barkett. She has come to Singapore to help train the Hooters Girls here.
Her long blonde hair frames a bosom accentuated by a snug tank-top knotted just under the bra clasp. Her orange running shorts manage to cover just her buttocks. Her suntan pantyhose have no snags and her socks and tennis shoes are 100-percent white.
"The Hooters Girl image is the girl-next-door look, so you want to have your hair done nicely, and your make-up on, just like you're going out on a date. You want to look very pretty", she explains.
When asked about her cleavage-revealing tank top, she says: "It's not too tight at all. It's very comfortable. Keeps it nice and neat looking. Nothing provocative.
"I love my job because I get to work with some of the prettiest girls in the world", she adds, while tapping her 2-cm-long acrylic nails on the cedar table.
"This is such a fun place because nobody's ever in a bad mood", she declares. So full of fun, she insists, that she has never had a bad day in the whole of her eight years with the restaurant chain.
She is not a dumb blonde though, she adds. "I put myself through college with the money I earned working in Hooters and got a degree in marketing".
Degree or not, being a blonde makes her an easy target for jokes by diners. She decides to share one.
"A blonde and a brunette are walking along a road. The brunette says: "look. Dead bird". The blonde looks up and says: "Where?".
An example of a joke she prefers? "What did one casket say to another? Answer: Is that your coffin?"
Ms. Barkett may not be the next Ellen Degeneres, but she appears to be a good trainer - Singapore is the 10th outlet she has been sent to to train new staff members.
One of these is 21-year old Valerie Cheng, who describes herself as being "average" in looks with an average-sized bosom. She declares quickly that she would never consider having implants. "If you feel comfortable with yourself, you don't have to do that", she asserts.
While it looks like it might be a while before she makes it as a Hooters calendar girl, she is keen to have a long career with the restaurant chain. She talks about her hopes to be part of the action when new outlets open in the region "because high positions are available".
Since it was founded 13 years ago by six fun-loving businessmen with roots in the Midwest and no experience in the food service business, the chain has burgeoned into 195 outlets around the world. All but five are in the US. (since this article appeared, there are now nearly 230 outlets, spanning the globe)
Ms. Barkett attributes the restaurant's success to the "whirlwind of fun" that diners have when they go to the restaurant. "Everyone's smiling and dancing and having a great time. They always leave their troubles at the door".
On the fun agenda is an upcoming wet T-shirt contest. There is a twist though - the wet T-shirt is pre-chilled in the freezer.
The contestants will undoubtedly know what the cold does to one's skin.
Update : Hooters has relocated from a second floor to a riverside space in 2005, but still at Clarke Quay, Singapore. Poole Associates was not involved in the relocation.