HOUSE OF MAO I
By Thio Lay Hoon : ID Magazine
April 1998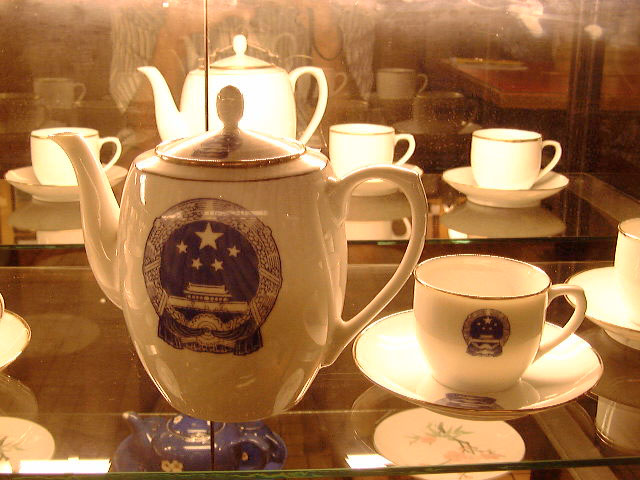 Says Ed: 'all the artifacts are real, sourced over three years in Beijing. We wanted to create a space that would respect the history of the contents'. Lighting too, is consistent with the theme. The showcases at the merchandising area are of cold fluorescent, 'which is the lighting typical in a Third World environment'..
The back bar. Detailing of cabinets, counters, doors etc, has been done to give the place a 'non-designed' look, a sense of a place that has evolved over time. Those reconditioned old television sets are for playing Chinese news broadcasts (without sound) and films on Mao and the Cultural Revolution.
Would you use these if they were door-less?
The outdoor terrace of stone paving, much like the flooring at Tiananmen Square. Mural design by Pauline Evill and painted by Willy Baet. Visit www.tembusuconcepts.com
Click image for larger view
Photography 1, 2 : Poole Associates
Photography 3, 4 & 5 : Peter Mealin
H O W M A O !
If you come to the House of Mao hoping to expose some seriously seditious shenanigans, you will be utterly disappointed. The place is nothing more than just a painstakingly detailed theme restaurant serving exotic Hunan Cuisine that is essentially its main attraction. Managing director Andrew Tjioe explains: 'Hunan food is spicy and an acquired taste. Chairman Mao is the greatest representative of Hunan; hence, the restaurant is called the House of Mao. There are many Mao restaurant all over China, which are often jam-packed. This is the first one outside of China'. Designer Ed Poole concurs: 'There are at least 10 houses of Mao in Beijing. But their basic idea is simply to serve Mao's favorite foods. Otherwise, the interiors are nothing, they do not have a "concept".
This one, located at China Square level 3, certainly does. Going on the Mao theme, as client Mr. Tjioe had requested, the designers went to great lengths, including visits to China, to research and source for information and relevant materials with which to piece together an appropriate 'authentic' interior environment.
Says Ed: 'all the artifacts are real, sourced over three years in Beijing. We wanted to create a space that would respect the history of the contents'. So "real" were their finds that 'when we had finished putting up the pictures, one of the floor tiles workmen who was once in the Chinese army, actually spent hours reading the captions on each and every one!' But Ed is ready to admit that at the end of the day, 'the place is total fantasy. In fact, it is based more on the traditional Singapore coffee shop'. If you realize how the kopi tiam came about, and how it used to be, you will see Ed's point here!
The site is an awkward Z-shaped space on the third floor of China Square Food Center that was originally intended for food stalls. There are five main areas in the restaurant: the 'Great Hall' (with adjacent private tea room and library), a noodle bar, a back bar, an outdoor terrace and a take-away merchandise area. (See floor plan at the bottom of this page)
'The Great Hall is representative of the Great Hall of the People, but as we have never been inside it and have not seen photos of it, we are taking clues from the exterior architecture. Thus, we have a series of six columns lining one side, two are for real but the others are fake. The window frames are custom made of steel in a similar pattern'. Of course, it still cannot be a House of Mao without an 'official' portrait, so Willy Baet (Poole Associates) painted one based on the famous portrait at Tiananmen Square.
A heavy fabric curtain of dark military green wool in the Hall adds a sense of theatrics. Set against this are chairs of red fabric covers that refer to the collar details on red army uniforms. Says Ed: 'The red fabric chair skirts are very traditional Chinese, and are found in many restaurants in China'.
In true Poole Associates color, there are cheeky design nuances. 'The large 18-person table in front of the portrait is representative of state banquettes held at The Great Hall of the People. Here we expect customers to share this table - a metaphor on communal sharing in the concept of Communism; it is not meant to be booked up by one large group at a time. 'Those custom made pendant lights, five bowl-shaped lamps suspended from a stem, indicate yet another metaphor: 'The will of communism, as represented by a metal star, supports the rice bowls of the people'.
In the noodle bar is yet another tongue-in-cheek element: the timber screens that separate the tables. 'They are for a sense of privacy but yet can also create a sense of unnerving paranoia, as you think the space is private but in fact, you cannot see whom is listening on the other side'. This idea is a take on the policing of the community by the communist party. After all, as Jung Chang (author of Wild Swans) wrote: 'Where there is a will to condemn, there is evidence!'.
More up on the beat is the outdoor terrace, a place to relax and enjoy the view over China Square. It is graced by a mural, by freelance graphics designer Pauline Evill and painted by Willy Baet, which evokes the energetic youth and chaos that Mao thrived on. The paved flooring is representative of Tiananmen Square. The music is traditional Chinese instruments remixed by Marco Polo with heavy disco backbeats. Marco is from Milan who had DJ'd at Zouk (a Singapore discotheque). Says Ed: 'There will be a lot of ad people coming to China Square. The terrace, hopefully, will become a trendy meeting place'.
Lighting, too, is consistent with the theme. For instance, the showcases at the merchandising area are of cold fluorescent, 'which is the lighting typical in a Third World environment'. And the toilets are bare light bulbs, suitably chosen 'to enhance the sense of frugality'. All other lighting is computer-controlled to change when day courses into night; the Great Hall shifts from warm yellow to deep red when the clock strikes ten in the evenings.
The toilet is one area where Ed felt he could do things to 'remind people that everything Mao did was not good. Andrew (Tjioe) did not like this part, as he thinks I was too literal and could put customers off. The toilets are frugal representations of Chinese prison cells. They are basic, depressing but clean - anyone who has been to China can attest that the facilities are generally disgusting. We have had several comments that we should take the doors off the stalls!
Project Team:
Ed Poole, Rey Tadifa, Wong Kim Mei, Willy Baet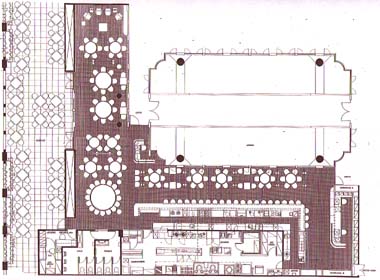 House of Mao I, China Square Food Center Level 3, Singapore
HOUSE OF MAO I
By Jill Daniel : The Expat Magazine Singapore, February 1999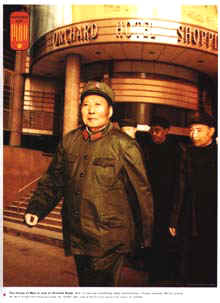 House of Mao.
Thankfully the restaurant's food and decor live up to its excellent advertising campaign.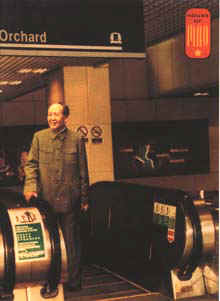 Ogilvy & Mather Public Relations:
1 Maritime Square #11.01 World Trade Centre Singapore 099253
Tel: 6278.7777
Fax: 6278.0706
P A R T Y P O L I T I C S
House of Mao, iconic restaurant to the people, isn't just a pretty face, writes Jill Daniel.
When David Tang set up his ultra-chic Chinese emporium Shanghai Tang's in Hong Kong, all things traditionally Sino suddenly became hip. And Mao, the founding father of the cultural revolution, became the icon that city slickers were proud to sport on their watches, lapel pins and groovy house ware.
But it was with some surprise when the image of Mao started to appear in rather more staid Singapore, where communism remains a distinctly dirty word. This time, however, it wasn't in a lifestyle store but a restaurant. Powerful advertisements picturing Mao appearing from the MRT or driving along Orchard Road suggested that making a visit to House of Mao, "a revolutionary restaurant, noodle bar and cafe", should be on everyone's list of must-dos.
To be honest, we'd made up our minds about what we were to experience before placing even a single foot in the door of the restaurant. Clearly, this was going to be an Asian attempt at an American-style chain like Planet Hollywood - essentially a themed hamburger joint with an Asian twist. We were wrong.
We visited the larger of The House of Mao's two restaurants at China Square Food Center on Telok Ayer Street (the other outlet is in the Orchard Hotel Shopping Arcade) and, making our way up to the third floor, arrived to be greeted with a salute by a group of authentic-looking revolutionary guards. Further military salutations were delivered as we made our way past a giant oil painting of the great helmsman himself, followed by a noodle bar said to be the longest in the world. Feeling slightly in awe of this somewhat grand display of communist memorabilia, we managed to stifle the feeling that we were being frog-marched into the nearest re-education camp.
Our table was by all standards very simple - the decor is quite authentic in that it accurately recreates the spartan interiors of 60's and 70's China. The wooden screens that partition various seating areas are hung with khaki-coloured cotton or bright white lace. The tables are red, as are the upholstered chairs. The lights include star motifs and flower wall-lamps popular during the Mao era, and the heavy curtains on the floor-to-ceiling windows reflect the green and red hues of Mao suits. Mao memorabilia, photographs and prints line the restaurant walls.
We turned next to the menus. The beverage list takes the form of a giant beer can with a portrait of - you guessed it - Chairman Mao on it. Inside were some interestingly named cocktails - including a Darling Comrade, Long March Tea and a Maogarita. Apart from the usual beers and spirits, you can order the Chinese beer Tsing Tao, hot and cold sake and Chinese wine. Clearly the marketers have had plenty to work with here - the food menu is a four-page tabloid sized pamphlet bearing a stirring cover of workers waving giant red flags beneath a large portrait of Mao.
The food is basically split into two - authentic Hunan cuisine from Chairman Mao's home town and fusion cuisine which combines the flavors of Hunan with western styles of cooking or sauces. The man behind the menu is House of Mao's culinary consultant Susur Lee, a chef who started his career at a tender age with the Peninsula Hotel in Hong Kong before moving to Canada. His pedigree is flawless - he was named Chef of the Year in Canada in 1997.
Ricky Yeo, the House of Mao's friendly assistant manager, insisted we try a good selection of the restaurant's fare. We started with a couple of typically-Chinese double-boiled soups - full of the kind of fortifying herbs one might need to undertake a Long March - including "Simmering Enthusiasm with Raw Fish in Hot Broth", for which the raw ingredients are brought to the table in a bowl. Steaming hot chicken broth is then poured over them, you wait a couple of minutes and then enjoy. Our verdict? Simmeringly enthusiastic. The other soup - "Strive for Progress, Long Live Victory" - turned out to be double boiled black pigeon with red dates and chicken stock. This soup had a very strong flavor and was very warming.
As an appetizer we tried a dish entitled "A Friend From Afar Really Cheer Me Up" - a curious name, for sure, which turned out to be a roast chicken salad with cucumber, mango and Thai basil in a spicy lemongrass and peanut dressing. Apparently this is a popular dish with the restaurant's patrons. Our group, however, felt there were rather too many competing flavors, and the dressing was a little too tart.
It's worth mentioning here that the current menu is the restaurants fourth since it opened in March last year. The chef is constantly experimenting with new flavors while patrons' favorites are continued. And be warned, minced pork is featured heavily in Hunan cuisine.
The western-influenced dishes included mian or pastas, lao-bing or pizzas and the House of Mao Fajita. We tried a vegetarian version of the Mexican dish which included a selection of vegetables and mushrooms, lettuce and braised shredded Jicama served on a sizzling plate. Unlike their Mexican cousins, these Fajita had only a sprinkling of gruyere cheese - ask for more if you're a cheese lover - and the 'fajita' are actually Chinese pancakes traditionally served with Peking Duck. The highlight of this dish was the Green Tomato and Chili Sauce - piquant and flavorful, much better than salsa.
Desert (which was hard going after our feast) was the special of the day - a sweet potato and ginger warm sweet soup with red bean dumplings. A minor taste sensation. Other deserts included a TiraMaosu (geddit?) and Lotus Banana Pancake Parcels with Orange Coulis.
Overall we enjoyed the experience at the House of Mao. Not normally great lovers of fusion cuisine, we found the food interesting and creative. The atmosphere was fun and lively. We would definitely come back - especially with a large group. And definitely with visiting overseas relatives and friends.
Party on, comrades. ***