In Sugar Bar's main lounge, 13 mirrored balls descend from a light well after midnight - a design that has been repeatedly copied by other clubs in Singapore
The frescoed foyer, hand painted by Willy Baet of Poole Associates
|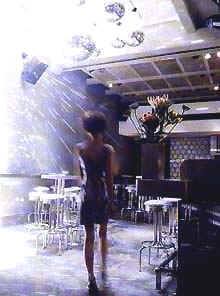 Others in this story included: Summit: Sydney by Burley Katon Halliday, Denim: London by Shaun Clarkson, Cantaloup: Sao Paulo by Arthur de Mattos Casas, Russian Samovar: New York City by Howard Spivak and Felix Zbarsky & Yuri Kuper
S U G A R S I N G A P O R E
Singapore's Mohamed Sultan Road is well known for its strip of rowdy bars, and for a crowd that doesn't much care about their surroundings: cheap decor, scanty air conditioning, and beer-and cigarette soaked air. But photographer Gary Sng had something more rarefied in mind for Sugar Bar, his first such venture: he wanted a chic venue that "would scare off young kids, that was safer for the lungs, and more civilized," says architect Ed Poole, of Singapore-based Poole Associates, designers of many of South Asia's most popular nightspots.
The narrow building houses the 1,900-square-foot bar on the first level, and a private lounge, staff offices, and a small apartment on the two floors above. The club is broken into three zones: the first is a regal entrance hall which acts as a lounge and holding area for the main space. It took a month for artist Willy Baet to hand-paint the crackled fresco of flowers, grotesques, and fairies inspired by Marie Antoinette's bedroom. Other luxurious elements, like the vaulted ceiling and floor of terrazzo, Spanish limestone, and crushed champagne bottles, subtly let fun seekers know that this is no gin joint. As campy counterpoints, Poole covered the bar with glitter and the wall behind it in sequined stretch fabric, and topped off the room with a Venetian crystal chandelier Sng purchased in Bangkok.
The large main bar area has a futuristic feel Poole calls "disco-starship." Sng wanted to transform the space with an entirely different theme every few months, so the architects created a spare, largely monochromatic interior that functions almost as a stage set: the ceiling's crossbeams support lighting and props; gray and reflective surfaces mirror special effects; and durable materials add to the ambience: concrete floors, bars of stainless steel and granite, and glittery silver vinyl stools. Holographic honeycomb-shaped vinyl padding is velcroed to the walls so it can be changed easily; the hexagonal motif, a play on sugar's chemical structure, is repeated in the tabletops and foyer floor. Initially the architects intended to populate the room with upholstered seating, but the crowds have proven too thick. An elaborate air conditioning system, fed through the ceiling from second floor ducts to minimize intrusion, changes the air every 20 minutes.
The open-air courtyard is a zen-like sanctuary, a simple composition of fuchsia walls, a gridded concrete floor, and 500-year-old Balinese pots perched like "alien pods," says Poole. And if by some odd chance visitors haven't been wowed yet, after midnight 13 mirrored balls descend dramatically on a motorized rig from a light well in the main bar that reaches to the roof.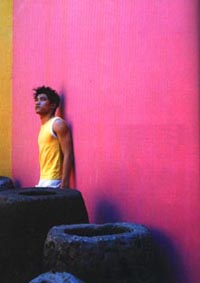 Project Design Team :
Poole Associates Private Limited
Ed Poole, Andrew Jones, Willy Baet, Rey Tadifa, Wong Kim Mei
e:mail contact@poole-associates.com
T 65 | 6536 | 3928