KING RESIDENCE
By Ricky Yeo : Interiors Quarterly
Within the original 30's layout of the living area, the mood is unmistakably 90's. Fenestration details are original to the architecture of the flat. Painting by Jane Hammond. Credenza with concealed lighting. Sofa is custom-made from an original design by Jacques Amille Ruhlmann. It is chosen for the crisp proportions of the front elevation, and the smooth curving lines by the sides.
A 100mm deep cabinet stores glasses, becomes a drinking rail during entertaining and a sill for Paul Klee's lithographs. The wall lamp is from a hospital.
Behind the bar counter are niches for books and artifacts.
The toilet with a trough basin. White tiles are lined in a brick pattern.
The kitchen with glass-paned collapsible doors invites natural light into the enclosed space. A great venue to start the day with a cup of coffee
L O O K I N G G O O D [cover story]
From being habitués to becoming residents, this couple has cottoned on to the charm of Tiong Bahru neighborhood.
There is, within this benign interior, a sinister undercurrent. It is largely emanated by an untitled life size painting in the living room. Its creator Jane Hammond had depicted a po-face man, possibly a ventriloquist, holding up a dummy, around them are images from such disparate sources as magic, alchemy and exotica. This picture, the first that greets the visitor when he enters the flat, is disturbing. 'The painting is the anchor for the living room', says owner Nicholas King. 'In a room of this small scale and simplicity, we wanted something that would grab your attention. And you would need something pretty big and bold to do that'. King, a property developer, lives here with his wife Zee, a graphics director.
While shocking in its effect, the painting, displayed in this particular context, is exciting, provocative. This 'context' refers to the Tiong Bahru estate, one of Singapore's first prototypes for public housing conceived in stages between the 30's and 50's. What are the factors that lured the Kings to this neighborhood?
"We visited this area many times in the past, so it wasn't by chance that we moved here. We like Tiong Bahru because of its history and its character - the Art Deco architecture, the market, the sundry shops and food stalls', says King. 'Given the choice of a new condominium apartment with the same floor area, we would still prefer this older unit. It has a much more logical layout of space'.
With the help of the designers from Poole Associates, the flat is planned in a flow of elegant interconnecting spaces, yet fulfilling the function that the Kings demanded of each specific room. 'We wanted to do some fundamental re-work to the home without feeling guilty', says King. 'If you buy a new condominium and start knocking down walls, you don't feel there is the opportunity to do as much. In a place like this one, it didn't matter if we change the layout around. The freedom in creating new spaces presented itself to be rather attractive'.
The aim therefore, is to retain the character of existing structures and rooms, New perfunctory elements are extravagant only in terms of form and texture. Modern services such as conduits, aircon units, wiring and plumbing are as far as possible, concealed within HBD requirements. The overall interior design while respectful of the building's history, is also cognizant of its relevance to a 90's home.
Says King: 'This being our first place together, Zee and I wanted to simplify things. We wanted a home which was architectural and had the fundamental elements of the right surfaces, spaces and functions'. To that end, the designers have shown resourcefulness in creating ample storage space. About the credenza (a long, low cabinet) in the living room, King says: 'It's a combination of surface veneer, storage and for lighting. It's something you couldn't achieve by putting a piece of furniture in its place. The same goes with the bar cabinet where all the glasses are stored'.
A long cabinet 100mm deep, begins near the entry door and connects through to the bar counter. It acts as a 'mantelpiece'. This mantel is exploited to the fullest, providing multiple function as glassware storage, a drink-rail during entertaining and a ledge for art pieces. Says King: 'We wanted the space to serve many purposes. We wanted to pack as much as possible and yet keep it as simple as possible. Putting in the bar counter gave us storage for glasses and bottles, and this adds meaning to the spaces. 'This space-saving thinking originated from the hotel room system. I have always envied hotel rooms for the thought and level of detail that go into designing them. Usually in an apartment, you just get bare walls and put in furniture. That need not be the most efficient way to use space. We wanted efficient use of space and we didn't want clutter. So we were absolutely ruthless in getting rid of knick knacks and odds and ends'.
One investment that the Kings have saved is their art collection. These paintings give color to a primarily restful off-white interior. Apart from the Jane Hammond painting, there are also Paul Klee lithographic prints from a series of 50 that were purchased when King studied at Harvard in Boston. The corridor to the kitchen features Indian prints.
With the existing concrete floor pitted and cracked, new flooring material was installed to enhance the character of the house. The new floor is made from pulverized quartz crystal, mixed with yellow and pale lavender dye. It gives the look and color of very old and worn concrete, but when polished, elicits a finish that is smooth as glass.
The toilet, a tight little adjunct space along the corridor, also shows great space-saving idea. It has a utilitarian trough basin and with tile work in a brick pattern. Period light fittings give this tiny toilet character. The kitchen is installed with collapsible glass-paned doors that maintain a sense of openness within an enclosed area. Says King: 'Its quite wonderful how much light comes into the kitchen. And with light bouncing off the yellow wall in the backyard, the place has a nice, warm, sunny sort of feeling'.
Photography by : Peter Mealin, Tim Nolan
KING RESIDENCE
By Emma Warlow : Apartment Living
April | May 1996
The original chimney breast in the kitchen has a pleasing shape. A modern stainless steel gas cooker fits neatly beneath a glass shelf and generous storage is provided in the spaces beneath. The floor is new, although the choice of authentic mosaic tiling maintains a coherent look.
Custom-made french windows were made to mirror the style of the original windows. They open out from the kitchen into the sunny yellow-painted courtyard.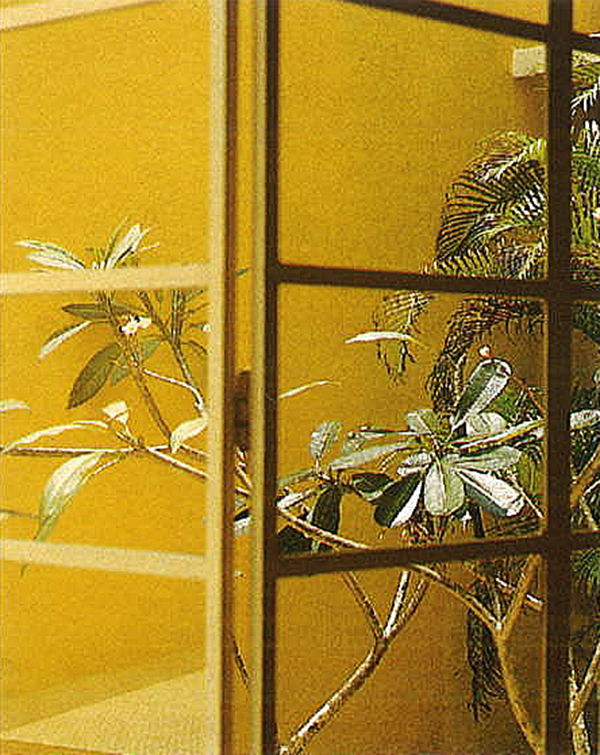 Healthy frangipani trees flourish in the courtyard.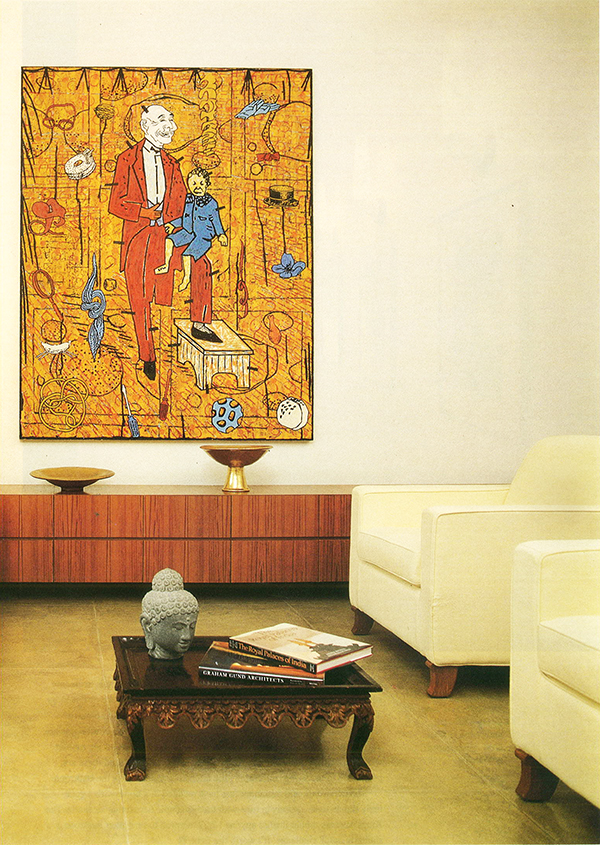 The cool, creamy living room, with specially commissioned furniture in the style of Ruhlmann classics from the thirties upholstered in pale lemon cotton. The oil painting by Jane Hammond was chosen for its drama and scale.
D E S I R A B L E D E C O [cover story]
An apartment in Tiong Bahru proves how harmonious a marriage between the old and the new can be. Emma Warlow enjoys a thirties revival.
Art Deco architecture is a passion of both Nick and Zee King. Having discovered a predominance of the style in Tiong Bahru, they kept their ears open for news of apartments for sale in the area. Eventually, a year ago, a ground floor unit in Seng Poh Road came up. 'It was in a terrible state of neglect, but our hearts lifted because nothing had been touched, structurally, since it was built in 1939', says Nick. 'We knew we'd be able to preserve the unit's original thirties feel, which we loved, and weren't about to let a few exposed wires and the primitive plumbing deter us'. They called in the services of architect Ed Poole, of Poole Associates, a fellow devotee of thirties style. Like the Kings, he wanted the finished apartment to have an authentic feel but satisfy the demands of modern life. 'The classic dilemma when you're trying to keep everything as simple and stylistically focused as possible is that you forget about the practicalities of daily life', says Nick. 'We needed masses of storage space, an efficient kitchen and, as we both work long hours, minimum maintenance'.
The rawness of the decorative finish they inherited gave the Kings ample scope for custom-made improvements. Storage is dealt with imaginatively in the shape of a low, wooden credenza that runs the width of the living room, a matching slender wall-mounted panel cupboard on the opposite wall, flush fitted cupboards that run from floor to ceiling in the bedroom, open shelving behind the bar, and cunning cupboards in the tiny pocket of a bathroom. The credenza houses the lighting system as well as CD's and general clutter and provides a useful surface area. Similarly, the frosted glass-topped wall 'cabinet' doubles as a place 'to lean against and hold drinks during a party'.
When the Kings first saw the apartment, wiring was oozing from the ceilings and walls. This has all been tucked away either within fake 'beams at corniche height, or beneath the newly laid floors. The rough concrete floor they inherited was given a new sleekness in the bedroom, living and bar areas, with the clever mix of colored silica and cement, polished to a rich sheen. 'Parts of it look especially interesting thanks to a neighborhood cat, who decided to dance across the floor before it was dry'. One pristine pawprint remains behind the bar for posterity....Cream mosaic-tiled flooring went down everywhere else - a look you half-expect to be original as so many homes of this era in Singapore incorporate it. There are no skirting boards, as there were none originally. 'It all looks absolutely in keeping - modern and practical, but authentic'.
The kind of attention to detail that gives such a simple scheme its strength is typified by the work that went into restoring the original windows. Every one was painstakingly stripped of its old paint, re-paned, resealed and painted in a warm cream to contrast gently with the whitewash that covers all the internal, plain plaster walls. And the kitchen, which was originally open to the brilliantly yellow courtyard, was fitted with a wall of metal-framed french windows made to match those elsewhere in the apartment. It looks totally authentic and gives this small room a fresh, geometric modernity. A compact gas cooker is housed in the original chimney breast cooking range, and a stainless steel sink faces a wall of original square cupboards.
Furnishing the apartment was undertaken with as much care as its renovation. The Kings couldn't find a living room suite that complimented their new home, so Ed Poole had an extended sofa and chairs custom-made, in the style of Ruhlmann classics for the thirties. The furniture's understated lines are clothed in a soft lemon yellow corded cotton by Jim Thompson, while simple roman blinds in creamy silk dupion from India hang at the windows. Color and focus are provided by a vast oil painting by Jane Hammond, which almost fills the wall above the credenza. Nick and Zee's collection of Paul Klee prints, and other artworks are also given importance thanks to the neutral scheme. A set of striking tubular wall lights was found at Mr Kee's shop in River Valley Road, and these are positioned in the living room, along the kitchen corridor and in the bathroom.
Maximum care and minimum fuss have resulted in a home with a genuinely classic style, entirely in tune with today's simple design aesthetic. The King's success should inspire anyone who's tempted to turn their backs on a similarly uphill challenge. It's worth the fight.
Project Team:
Ed Poole, Wong Kim Mei, Uday Kumar
Photography by : Tim Nolan