Merc-Grands Cru
Kuala Lumpur, Malaysia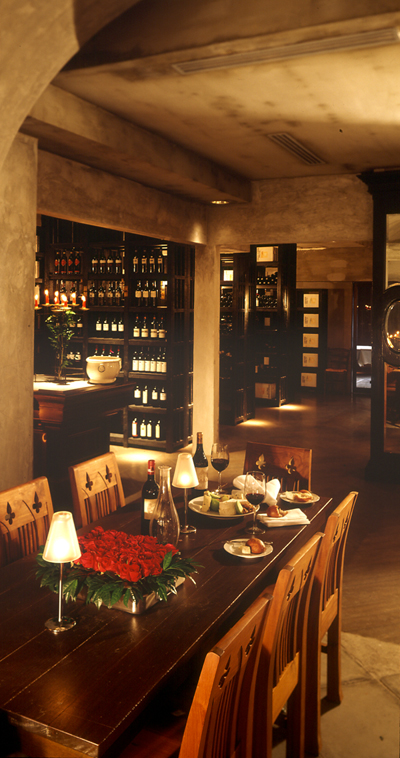 Dine in the Gothic cave area overlooking the extensive cellar section of Merc-Grands Cru. 15,000 bottles are in stock, produced from 10 countries. An excellent selection of exquisite champagnes and dessert wines for the discerning bon vivant await.
Exquisite private functions can be held in the grand dining room which features a charcoal artwork, titled : "Venus, Cupid, Time and Folly" by Agnolo Bronzino ca. 1553 Reproduced by Willy Baet of Poole Associates Private Limited. Click on Venus to view willybaet.com
Allure - a stainless steel and silk fabric by Woven Image, frames the artwork with the mesmerizing shimmer of light reflecting from the fabric folds. Sparkle from the crystal chandelier and flickering candlelight add to the enchanting effects of this very special room
If cost is no objective in the persuit of la dolce vita, the grand cellar is home to such treasures as Chateau Haut and Chateau Lafite Rothschilds Pauillac, both boasting an impeccable 1991 pedigree. Additionally, the Chateau Lynch - Bages Paullac - 1993 and 1996 are also star attractions. French whites include the Joseph Pellerin ' 95 Chablis and Sancerre Remy Pannier ' 98. From Italy there are Barolo Mascarello ' 92, Amarone Della Valpolicella Bolla ' 93 and Barbatesco Garibaldi ' 93, to name a few.
Project Design Team:
Ed Poole, Siegfredo Lopez, Wong Kim Mei, Johnson Yap, Roger Arquinez, Willy Baet
Photography :
SC Shekar, courtesy of Olympia Leisure Sdn Bhd Suite 8-20-1 Level 20, Menara Olympia, 8 Jalan Raja Chulan, Kuala Lumpur Malaysia 50200
Fabrics :
Woven Image Pty Ltd 21 Duxton Road,
Singapore 089487
Tel: 6227.2892
e:mail pacfurn@mbox3.singnet.com.sg represented by Pacific Furnishings (S.E.A.) Pte Ltd. Products available in Singapore, Kuala Lumpur, Bangkok, Shanghai, Beijing, Hong Kong, Sydney, London
Below : The reconstructed shopfront in a French-Art Deco style
F R E N C H K I S S
Inarguably the best thing to happen to wine lovers in KL in recent memory, Merc Grands Cru - upstairs at the tres-chic Parisian Brasserie Balzac - is a formidable wine cave which discerning wine connoisseurs will doubtlessly appreciate. Furnished with antique leather sofas from France and floor to ceiling wine racks, the wine bar is an aesthetic treasure but also a serious source for a comprehensive selection of truly superb wines. Patrons may choose to sip their wines in the general bar area or retire to a private tasting room for a more intimate experience: Either way, attentive wait staff will ensure a memorable experience, although the selection of wines and cigars will be no more than merely impressive.
The grand dining room has been constructed with special attention to the use of unusual materials. The walls and architraves are painted with 5 hues of Ermine Gray, trimmed with a wainscot of raw lead sheet in a harlequin pattern, painstakingly fixed to the walls with thousands of tiny brass nails. Not forgetting the theatrics..... the amber lit silver leaf light coves are reflected in hundreds of beveled-glass mirrors pinned to the ceiling.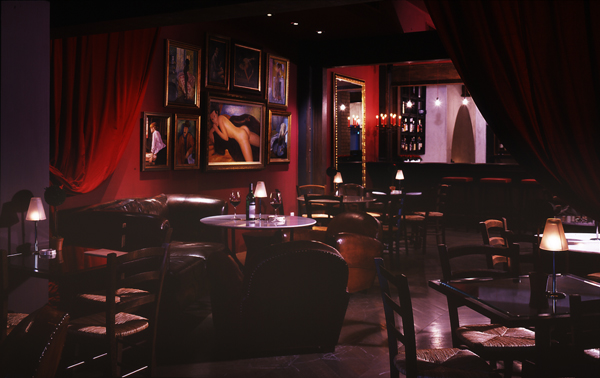 Cigar smokers can select from a range that includes the Cohiba, Monte Cristo and St. Dupont families, as well as such other beloved classics as the Hoyo Corona, RYJ Churchill, Juan Lopez selection number two, and the Punch Black Prince.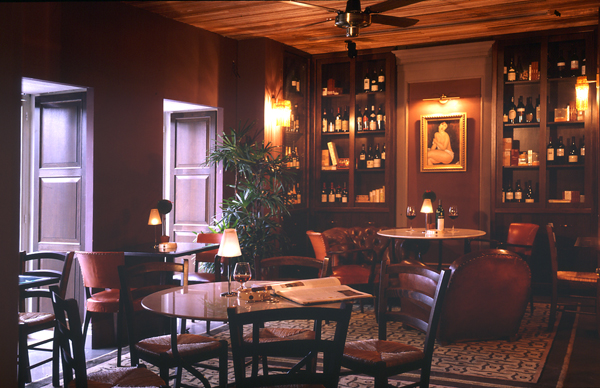 An exhaustive array of New World wines ensure that lovers of more robust wines at more modest prices will not leave dissatisfied. From Australia the excellent Wirra Church Lindemans Pyrus Coonawarra ' 95 and the Penfolds Cabernet Bin 389, Lindemans Pyrus Coonawarra ' 95 and Rosemount Shiraz ' 98. The bar also offers a full liquor selection.
Not just a wine bar. Merc-Grands Cru is inarguably a way of life. The good life !