NEXT PAGE PUB
Text by Ed Poole, Nov 1998
Next Page Pub Singapore, opened at No. 17 Mohamed Sultan Road, October 1998. Established at No. 15 Mohamed Sultan Road, 1992.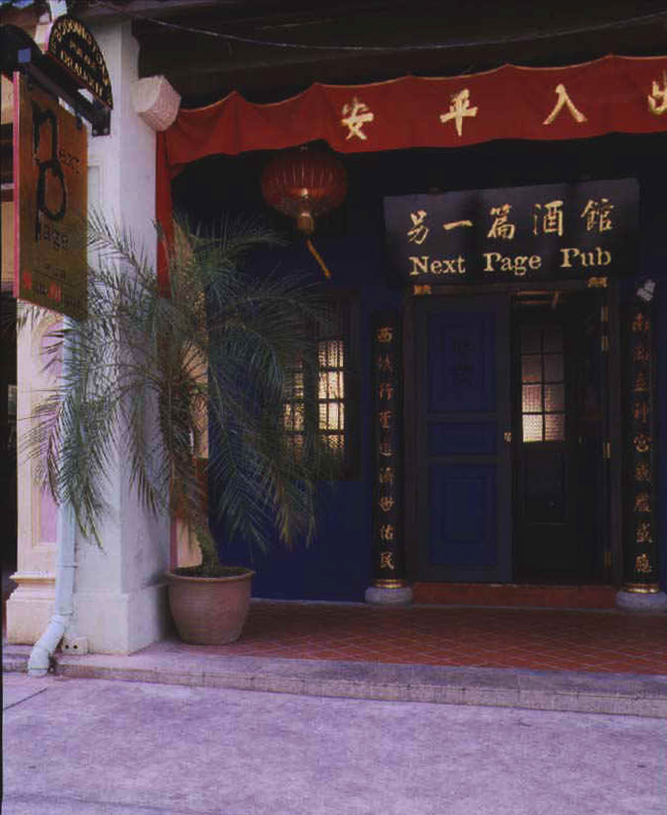 View of the 5-foot-way along No. 17 Mohamed Sultan Road. Blue is selected as the entry color for its restraining power on fire, as dictated by the Chinese theory of the five elements. The name NEXT PAGE is a reference to journalism - thus a concept relating to books, knowledge and theory are applied to the design concept of the pub.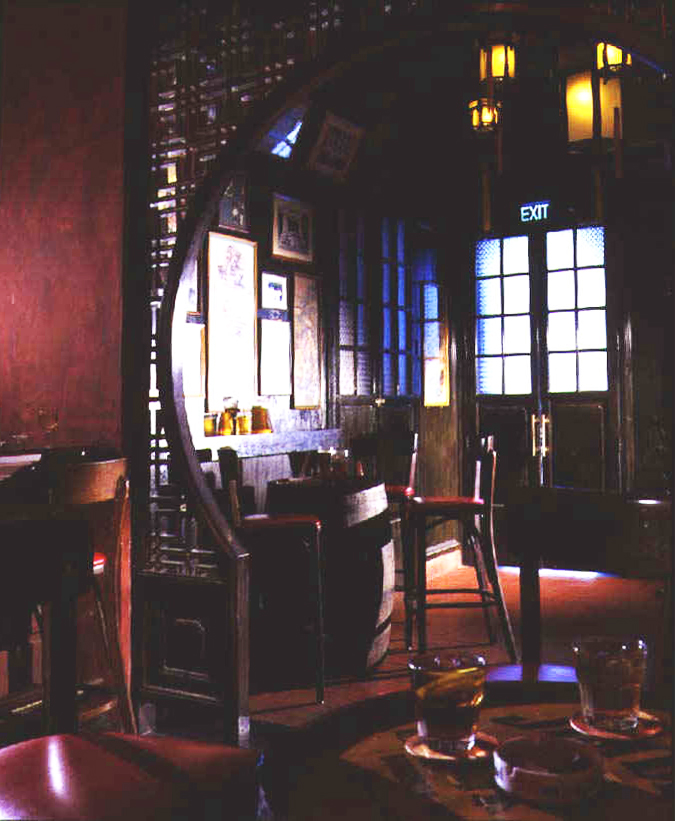 Traditional Chinese glass lanterns are hung from the ceiling of the entry vestibule, which features a Moon gate. Walls, floors and ceilings have been "distressed" with hand made finishes giving Next Page a warm, rich atmosphere that looks as if it has been located here for generations. The interior light well (photo below) was previously boarded up, and in-filled with modern aluminum and glass sliding windows. Painstaking ornate carpentry and plaster works were undertaken to bring details back into the light well, in a style which would have occurred 100 years ago.
A hand-crafted bar featuring carved Chinese fretwork lines one wall of the pub as a symbol of fusion lifestyle. This "Western" concept of bar design has no precedent in Chinese history. Here lies a provocative conflict of expression - is it Asian or is it Western?
Silk lanterns from China are traditionally placed in pairs at the entry to state buildings in Tiananman Square. Here we have informalized the look with an explosion of 60 lanterns dancing across the ceiling.
images improved 04.08.11
Next Page has closed on 25.01.10 Its the end of an era
No. 17 Mohamed Sultan is being renovated into a boutique hotel
|
M O D E R N D A Y C O O L I E S
Next Page Pub is more than a watering hole on Mohamed Sultan Road, a fusion of east and west, past and pop. Unmistakably Singaporean.
After undergoing a fast-tracked interior fit out of only 5 weeks, Next Page Pub has re-opened to the public in a new location only 2 buildings away, to the left, at number 17 Mohamed Sultan Road.
Re-appearing are features that became favorite elements of the old Next Page; exposed Malacca brick walls, red silk Chinese lanterns, the pool table and private booths.
The main bar has been improved with a granite bar top, timber plank flooring and enhanced lighting. Gold leaf Chinese fretwork details, moon gates and selected architectural artifacts add richness and interest to the boldly painted room. This deep oxide red pigment represents prosperity and health.
The pool table area features a double story ceiling height, with a godown style mezzanine. This area painted indigo blue, is representative of ancient Chinese palace architecture, particularly the 'Pavilion of Literary Reminiscence' located in Shenyang.
As a royal library where most valuable Chinese encyclopedias were stored, The Pavilion of Literary Reminiscence had to be guarded well against fire. According to the Chinese theory of the five elements - metal, wood, water, fire and earth - black represents water and has a restraining power on fire. Therefore, the entry and rear areas of the pub are painted in the cold colors of blue, gray, black and deep green. (There has been a mysterious history of fire on this street)
New windows at the back of the pub open out to the jungle beyond, exposing a lush carpet of greenery.
Located above the main bar, steel beams painted black are not recent additions to the building, but were structural reinforcements placed there many years ago, as this particular shop house was once used for book binding.
This complex image by photographer Shaun Pettigrew was created for a European ad campaign for Tiger Beer. Shot at Next Page Pub, Singapore 1999 using the entry Moon gate as a backdrop.
Shaun Pettigrew e:mail shaunp@iconz.co.nz
Project Design Team :
Poole Associates Private Limited
Ed Poole, Rey Tadifa
e:mail contact@poole-associates.com
T 65 | 6536 | 3928
Photography: Peter Mealin
The rear of the shop house was once a cramped dirty kitchen (in 1997), Here we have created a complete fantasy space, everything in this image except the spiral concrete stair is new construction - In our version of a Singapore Godown, the mezzanine level serves as a future wine bar (this was subsequently rejected by the Authorities, and is now the management office). Cool, modern-day coolies now play pool.