QHUE
By Thio Lay Hoon : ID Magazine
Oct | Nov 1997
Qhue restaurant-and-bar, with a French-Vietnamese interior theme stands on its own at one corner of Pasir Panjang Village. Its ochre-ish yellow walls and green shutter-windows recall the buildings in Hanoi, 50% of which are typically colored. A simple piece of steel-framed glass canopy fitted over the entrance alcove infills the gap between this corner house and its immediate neighbor, thus the reading is still as two separate houses.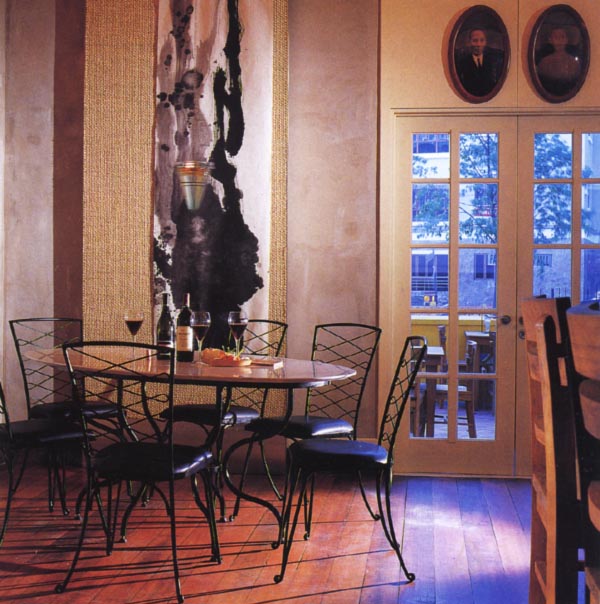 The main dining room: The oval table is sort of French-Vietnamese, with French garden chairs; flooring of old shophouse timber planks; the colonial French doors open out to a side alcove which has its own 'environment'. The sisal piece, glued onto the cement wall, is introduced for a naturally textured background. Chinese ink painting on rice paper by Cai Heng (Presence III, 1996), from Wetterling Teo Gallery, is juxtaposed with the two European portraits above the French doors.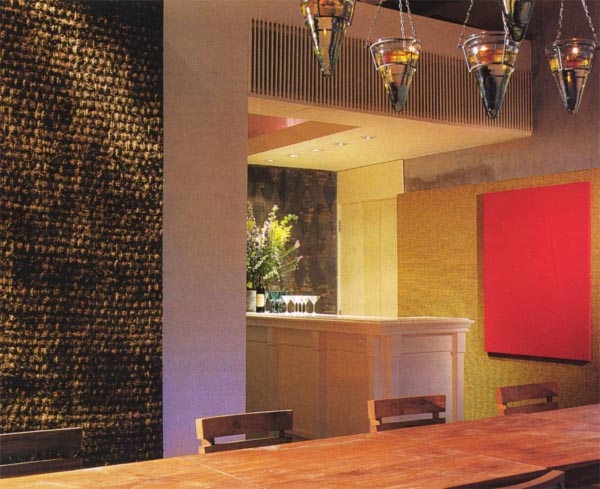 Private dining room on the upper level. The woven sisal wall detail is an abstract reference to the wooden buildings in the Mekong Delta. Suspended oil-lamps made from the improvisation of Mexican-glass globe flower vases held by a custom-made bracket. Painting by Kumari Nahappan (Eye II 1995) from Wetterling Teo Gallery
H A N O I I N A B O X
Unlike Provignage and China Jump, which were given healthy doses of literal interpretations, Qhue restaurant at Pasir Panjang Village, with a colonial Vietnamese theme, is a little more abstract, in terms of its expression of Poole Associate's trademark 'New Asian' concept.
The site is a stand-alone unit at the end of a row of houses (all of which have been converted into various food and beverage outlets). It was built as a shop house originally, and then used as a car mechanic's garage or some such. After it was renovated by the new developers, 'it was completely and utterly devoid of any character whatsoever,' says Ed Poole. 'It was simply a concrete box. Openings were left open with nothing in them. We had to recreate everything, doors, windows, ceilings, floors..... everything.' The only things that were there and consequently became part of the design were two columns on one side of the building.
The designers, Ed Poole and Andrew Jones then picked up on the idea of having a French-Vietnamese theme with which to give the place an architectural character that would relate it back to the original shop house. 'The building had a bit of formality to it. It's very symmetrical, very formal. It reminded me of military or government buildings, these grand houses particularly in Hanoi. And that's what kicked off our Vietnamese undercurrents for it'.
Meanwhile, there was also the brief. 'The client (who also owns Next Page Pub) wanted to have something Asian; but they didn't want to have another Next Page'. Ed also noted that the house is in a fairly up market part of Singapore: 'The demographics stated that people living in this part have more spending money than certain other parts of the island'.
So they had these pointers to go on - a place with an Asian feel yet not Asian; it caters to an up market clientele; and, it is located in a row of restaurants in an environment that's 'like a mini Holland Village'. Set on the French-Vietnamese theme, they developed a concept that would work with a residential setting, and drew up a picture in which 'you have this wonderful modern Asian house that was once occupied at one point by somebody from France....'
A series of 'micro-environments' was introduced into the spaces: "We broke up whatever small zones we have into even smaller zones. So a table became an environment, instead of a room becoming an environment'.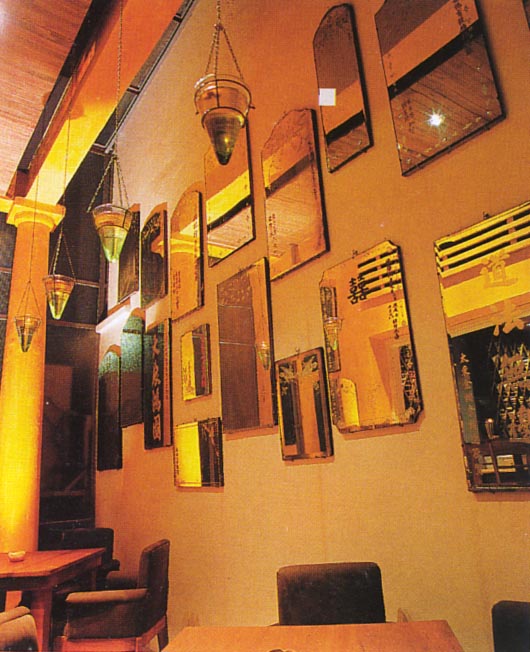 They ended up with six different 'environments' within the small house: 'On the lower level is the wine bar with its own character; two oval tables are placed at the front under a grand ceiling; the alcove on the side is yet another character. Then you have the garden outside, and then there is the greenhouse at the front of the building. Upstairs, there's the private dining room.'
Apart from installing the louvre windows and French doors, the designers did not make many structural changes to the building, save for a piece of lightweight canopy, made of old fashioned steel frame and wire glass which was fitted over the alcove at the front entrance. This see-through canopy infils the two-metre gap between this and the adjacent house. Ed explains: 'The other buildings in the row are attached, Qhue is independent. We were trying to maintain an entity for Qhue on its own.'
Project Team:
Ed Poole, Andrew Jones, Rey Tadifa, Wong Kim Mei
Photography : Peter Mealin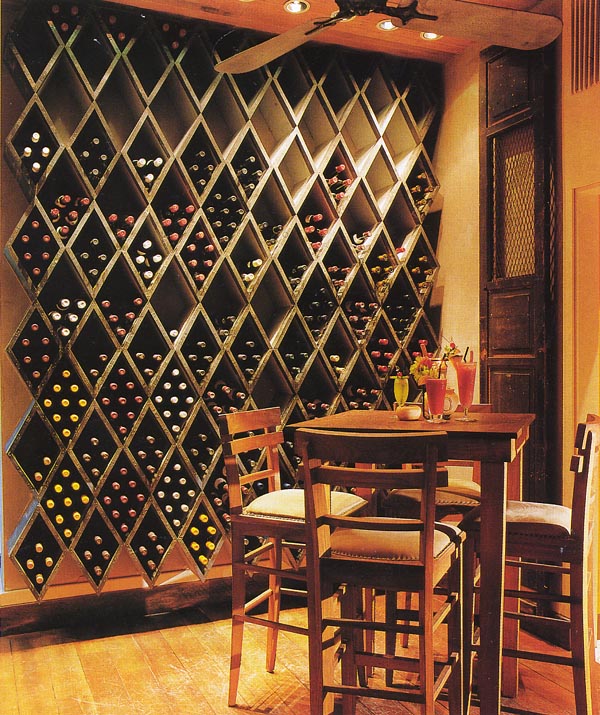 Update : Qhues' lease expired on 30th June 2000 and the restaurant has closed. The management has opened a new establishment called Front Page at 19 & 18 Mohamed Sultan Road.