REGENCY PARK II
Untitled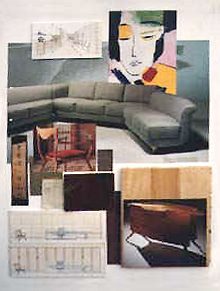 Proposed presentation board for Regency Park II. A contemporary Italian sofa group fills the living hall, with peripheral seating and objects in a Chinese style. Monumental art pieces preside though out the apartment.
Owners identity withheld at request.
Project Design Team :
Ed Poole, Andrew Jones, Wong Kim Mei
e:mail contact@poole-associates.com
tel : 65 | 6536 | 3928
SINGAPORE
C L E A R L Y S P A T I A L
In an attempt to give the illusion of larger spaces, developers are notorious for providing the absolute minimum amount of storage / wardrobe space in a given floor plan. Not a problem if the occupants own little. But this is rarely the case in situations where purchase prices run into the millions of dollars.
At such high cost per square foot, extremely careful space planning is a must to satisfy today's home buyers. Below we have published the before and after floor plans of this 3,800 sq.ft. apartment as it clearly illustrates that with clever space planning an owners storage needs can be satisfied without sacrificing the feel of an open and flowing plan.
The entire interior of this unit at Block 11 was gutted to create a new layout of rooms within the existing structural frame. A small bedroom [too small to function properly] was omitted and becomes a study-home office off the master bedroom, utilizing a sliding wall to enable privacy when required. The master bath is enlarged with a dressing area adjacent which opens to a second bedroom which is currently used as a nursery.
The children's' bedroom has an existing wall relocated to allow a new [out of season] wardrobe and luggage store, accessible from the family room. Televisions | computer terminals and audio equipment which are usually bulky items are built into closet spaces which visually opens up a room to the art of conversation, as these insular components can be shut off from view when not in use. Visual "obstructions" are reduced further by concealing all air conditioning fan coil units into rear accessed closet spaces.
Children and maid can circulate to all the bedrooms and kitchen without entering the living-dining areas when a sliding wall to the family room is drawn.
All floors have been replaced with warm maple planking, with no visual breaks between rooms, thus enhancing the feel of flowing space. All walls are painted white, with minimal use of feature colors. Stainless steel hardware and white Volax marble are used extensively throughout bathrooms and kitchen.