TECHNIGROUP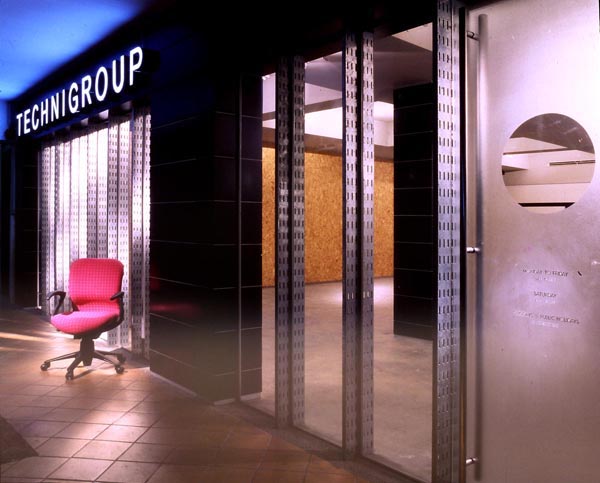 Industrial building materials are used in provocative applications. The shop front is constructed of electrical raceway trays, sandwiched together forming a mullion system at the plate glass show windows.
FAR EAST
T H E A T R E A C T
Technigroup Far East is a specialist supplier of office systems furniture and seating. Located on Circular Road Singapore, the street in which it is situated is increasingly being occupied by bars, restaurants and cafes.
To take advantage of the increasing night-time exposure to the public when the showroom is closed, the facade is painted dark blue, and internal spot lighting is set on a timer to illuminate the objects within the 1,600 square foot room.
A raw warehouse expression is created by the use of chipboard packing crates used as wall paneling, raw concrete flooring and electrical raceway trays used to form window mullions. A concrete-brick counter with stainless steel apron serves as a reception desk, doubling as a bar surface for entertaining.
Project Team:
Ed Poole, Marie Bogart
T 65 | 6536 | 3928
Photography : Peter Mealin
The facade becomes a 'stage set' in the evenings. A lipstick red theatrical curtain at the rear of the shop has been calculated to focus attention to the rear of the showroom.
Seating become 'actors in a still life'. Poised in a frozen moment of time.