October 13th 2004
The Straits Times
Singapore Architect Issue 223 [.pdf]
Text : Alan Yeung Woo
Photography : Peter Mealin
D+A Issue 020 | 2004 [.htm]
Design and Architecture [Asia]
Text : Ling Hao
Photography : Alex Heng
ISH Fragments of an Urban Scape
Text : Ethel Ong
Photography : Kelley Cheng
Wallpaper Magazine [UK] October 2004 [.htm]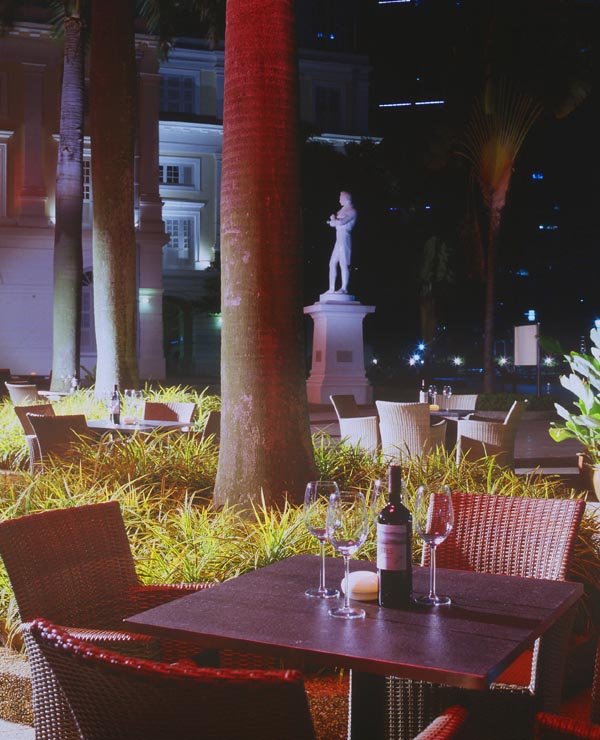 Project Design Team :
Poole Associates Private Limited
Ed Poole, Wong Kim Mei
e:mail contact@poole-associates.com
T: 65 | 6536 | 3928
C A F E S O C I E T Y [now closed down]
The space is well appointed in a modern Euro-Asian cafe style. Open seven days a week from 11:am until 1:am, the venue provides a comprehensive Western and Asian menu, with alfresco dining and live entertainment at the second floor bar. Dress to impress.
Facelift for oldest building 'a winner'
SINGAPORE'S oldest building, the Old Parliament House, is among the winners of the URA Architectural Heritage Awards this year.
It was the only national monument among the winners of the competition, which was expanded last year to include projects that successfully fused traditional and modern architectural elements.
The Old Parliament House reopened in March after a $15-million facelift as an arts and heritage centre called The Arts House.
Built originally as a home in 1826, it served as a Parliament house from 1965 to 1999.
Ms Rita Soh, president of the Singapore Institute of Architects, praised 'the very clever transformation of a historic building into a contemporary arts house without destroying its charm and character'.
For instance, Parliament Chamber, along with its original furnishings and fittings, was restored as a concert chamber hall.
Among the other winners of the competition, originally launched in 1995 to honour well-restored monuments and conservation buildings, are three terrace houses - two in Cairnhill and the third in River Valley.
History -
The former Parliament House building, the oldest surviving government building in Singapore, stands on the banks of the Singapore River. This was where the Temenggong and his followers lived in 1819, when Raffles first arrived. It was also the site of a 13th or 14th century settlement, as revealed by some 300 archaeological fragments of stoneware and earthenware that were uncovered during a 1989 renovation.
In 1823, Raffles ordered the local chief to move to Telok Blangah and claimed this select piece of land for government use. The two-storey Neo-Palladian building was completed in 1827.
Courtrooms and offices first occupied the building. In 1839, the courts moved out and the entire building was converted into government offices. Offices occupied the building until 1875 when the Supreme Court of the colony moved in.
On 9 August 1965, Singapore became a sovereign and independent republic and the Legislative Assembly building was renamed Parliament House. It was gazetted as a national monument on 14th February 1992.
In April 2004, the Annex building will enter a new phase of usage as Poole Associates is commissioned to design a restaurant and bar named Cafe Society to be located in the former ground floor Recreation Room and 2nd floor Court Room. The second floor opposite will revert from The Arts House management offices, to Cafe Society's formal dining room in 2005.