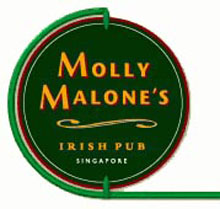 Index of pages
Exterior Photos
Interior Photos
A new
Irish style
Grand Stair
with upholstered
booth seating
on the landings,
helps to ease
the transition
from ground
to level 3,
and gives
the shop house
the feel
of being
a Grand
Georgian home.
See Perspective page
McNally : 1997
Councellor I
Molly Malone's -
Located at Units 53, 54, 55 & 56 Circular Road, Singapore. These web pages are in progress as working tools for this project and are not for public viewing.
Bookmark this new page. Click on the header bar to contact Poole Associates via e:mail.
Cost estimate by Masonworks .pdf file -
now out of date.
Sample elevations below. Note Victorian green glazed tiles to 1.6m ht at Unit 1.
Vertical signs to hang from protruding roof beams - at 45 degree angles, which will offer the best visibility from the angled streets. Final images to be created by Molotov.