SNG RESIDENCE
By John Corbett
Singapore Interior & Bedroom Trends
Vol.13 No.2
The living room features an antique screen depicting scenes from ancient palace life.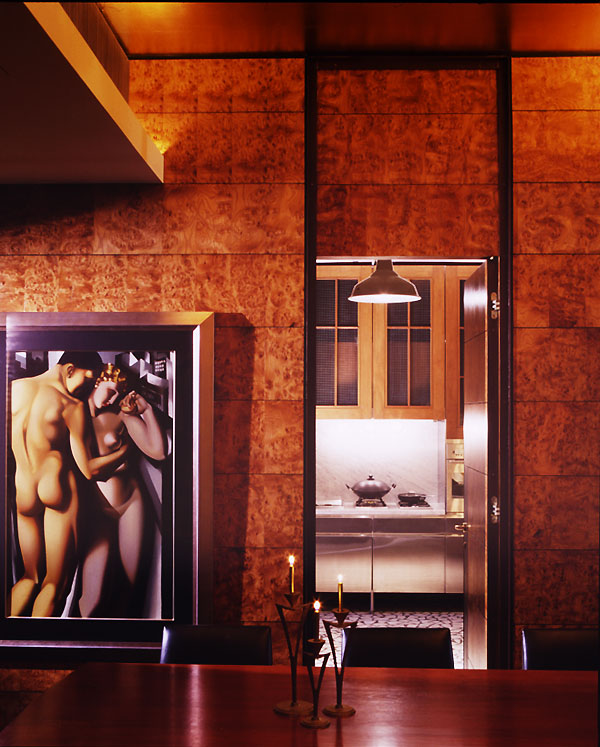 Warm earthy tones, rich finishes and flowing spaces make this refurbished apartment an intensely personal retreat. Wall panels of French elm burl veneer create an exotic background in this dining room. The effect is enhanced by a hand painted Thai dinner service and original prints by Art Deco artist Tamara de Lempicka.
The design scheme is a fusion of east and west, says the designer. The illuminated Italian onyx bar reflects the owner's interest in crystals and light.
A S M A L L W O R L D
Every home is as unique as its owner, but the word home has the same meaning all over the world. It's a private realm, a place where personal taste and character can be fully expressed. The owner of this recently refurbished apartment regards his home as the setting for a 'mature and reflective' stage in his life.
The apartment is decorated in his favorite earthy tones, and is a showcase for his collection of personal treasures. It is also a place for relaxing and entertaining friends. Redesigning the existing layout of the apartment to meet the owner's requirements involved extensive alterations, says architect Ed Poole. Several walls were removed or realigned, floors, doors, cornices and wardrobes were removed and several coved ceilings were raised or lowered to create a flowing new living space. 'Basically, we gutted the apartment and started over', says Poole. The new decorative scheme gives the apartment a calm and reflective look. Ochre-colored Venetian plaster walls create a soothing atmosphere, and dark parquet and veined marble floors add warmth. Gilded, bronze, chrome and onyx finishes, enhanced by carefully placed lighting, provide visual highlights.
The apartment is given a sensuous and tactile feeling by panels of moss-colored suede and French elm burl veneer. 'The finishes create a cocooning effect', says Poole. This calm atmosphere makes the apartment an effective backdrop for the owner's collection of eastern and western furnishings and artworks. The living room scheme, in fact, takes its lead from the colors and scale of a very large Chinese screen depicting scenes from ancient palace life. The designer chose black Josef Hoffmann chairs to help 'integrate' the screen into the room design. An ochre yellow Rolf Benz modular sofa picks up other tones from the screen. Olive-colored Jim Thompson silk drapes create a backdrop for a large granite Buddha head. 'The interior is a fusion of east and west', says Poole. 'Its other distinctive feature is that it uses traditional materials in modern ways. 'One of the owner's many interests is crystals and light, which I've interpreted by sheathing the bar counters with sheets of translucent Italian onyx which are illuminated from behind'. The dining room has an even more opulent treatment. The owner had already selected the Porto Oro Royal veined marble flooring and had bought two original prints by Tamara de Lempicka, the celebrated Art Deco period artist.
'It was therefore a natural step to give the whole room a rich look', the designer says. More wall panels of French elm burl create an exotic background for the prints. A 1930's French Art Deco clock, a Benjurong (hand-painted Thai ceramic dinner service) and an antique Indonesian cabinet inlaid with mother-of-pearl add to the room's sumptuous effect. Between the dining room and the living area, an antique gilded timber Buddha stands in an illuminated wall niche lined with French mohair. The final and most opulent touch in the dining room is a gold leafed ceiling.
To meet the owner's requirement for clean lines and flowing spaces that allowed for relaxed entertaining, the internal walls were made as linear as possible and kept free of ornament except for major artworks. Sliding glass doors allow the living and dining rooms to be divided off at will. A surprising omission from the entertaining-oriented furnishing scheme is coffee tables. 'I feel they're impractical in a seriously relaxed plan - they tend to clutter up the circulation space', says Poole. 'Eliminating them also avoids the awkward movement involved in reaching forward for a drink or a magazine. Instead, we've provided unobtrusive resting surfaces next to the sofas by using Eileen Gray side tables'.
The owner's and designer's shared dislike of visual clutter also resulted in all the air conditioning equipment, electrical wiring and storage cupboards being concealed behind custom-made stainless steel grilles. 'This rich but streamlined look is exactly what I wanted', says the owner, 'there's nothing in the way'.
Project Team:
Ed Poole, Marie Bogart, Rey Tadifa, Wong Kim Mei
e:mail contact@poole-associates.com
tel: 65 | 6536 | 3928
Click images for larger view
Photography : Peter Mealin
The ensuite [Below] features an Italian onyx counter top. Multiple mirrors make the room seem much larger than it is. A Rolf Benz sofa graces the Living room, and the kitchen features timber upper cabinets, stainless steel lower cabinets and marble counter tops with an industrial raw concrete ceiling.