The Straits Times
by Philip Allen 11th April, 2001
Update : Feb 2008
Teahouse has closed. The China Square Food Centre has been converted to an office block.
But fans of spicy Hunan cuisine can still get a fare exchange at its replacement in China Square, which will also feature all-day dianxin
Restaurant group Tung Lok will open a third eatery in the central business district, one which serves dianxin throughout the day
At 11,000 sq ft., The Teahouse at China Square will be one of the largest in the group and will seat 650 people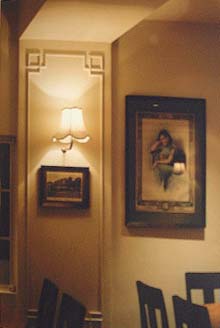 Mao memorabilia has made way for old world charm. Shanghai posters and images of turn-of-the-century Singapore adorn the restaurant
Life! . News
M A O M A K E S W A Y F O R T E A H O U S E
It takes over the premises of House of Mao, the group's theme restaurant serving Hunan food which closed last month. The new eatery is due to open in June.
The group already has two outlets in the central business district - Jade at the Fullerton Hotel and Noble House in the UIC building.
It also owns and operates 13 restaurants across the island.
Mr. Tjioe, 43, the group's managing director, said the new restaurant would also serve spicy Hunan cuisine, the food which made Chinatown famous.
It will be three times the size of House of Mao, occupying the whole third floor. It also replaces a cafe and a shop selling Teochew porridge.
The opening of the outlet is part of the group's expansion plan, which will be spearheaded by its new chief operating officer, Mr. William Tan, 42, a former managing director of Singapore Tatler group of publications. Mr. Tan's appointment was announced last week.
Part of the recently-listed group's expansion plans is to operate more Chinese restaurants in hotels, following the success of its Jade at the Fullerton Hotel.
It is currently looking into possible joint ventures with five-star hotels here and in Jakarta.
Mr. Tan will also oversee the publishing of a cook book of Tung Lok recipes and opening of another Lao Beijing restaurant later this year, the third Lao Beijing in its chain.
It then intends to franchise the Lao Beijing outlets, which serve noodles and northern Chinese dianxin.
The cookbook will cover the full range of cuisine from the group's restaurants, including Cantonese, Hunan, Beijing and vegetarian food.
Project Team:
Ed Poole, Fernando Cortez, Willy Baet
Ei8ht Days for Living
by Jason Hahn No. 565
Aug 2-9, 2001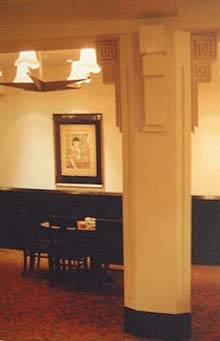 F O O D
DIM-SUM AND CHINESE A LA CARTE
WHAT These days, the closets most of us get to a genuine dim-sum teahouse is either at the movies (think Zhang Ziyi's single-handed kick-butt demolition of the teahouse in Crouching Tiger, Hidden Dragon) or in some sweaty, smelly shop house where the tables are crawling with flies, old aunties are shouting, "Kopi-ohhh!" at the top of their lungs and washing up consists entirely of vigorously shaking a bunch of chopsticks in a bucket of dirty water and them setting them to dry. Those of us after a more sanitized version of the teahouse where you can recline in air-conditioned comfort and nibble on delicious siu mai, without fear of being suddenly decapitated by an avenging gongfu mistress with a hang-up for older men, will be happy to know that there is a new kid on the block. The Tung Lok Group continues its quest for world culinary domination with the recent opening of The Teahouse at China Square Food Centre.
THE ATMOSPHERE The site used to be the House of Mao (yet another Tung Lok creation, whose Red Guard-inspired décor and Planet Hollywood meets The Great Leap Forward sensibilities failed to ignite the imaginations of the Raffles Place crowd of lawyers, bankers and stockbrokers. No surprises really. Socialism does not sit well with making pots of money.) The present incarnation of the Teahouse is a lovely tribute to the old, swanky club-rooms of 1940's Shanghai, complete with the slow twirl of antique ceiling fans. A warm glow from the art-deco wall and table lamps suffuses the large space. Tables are spread sufficiently far apart so you don't get the congested in-your-face camaraderie so common in the teahouses of Hongkong. Meanwhile, the waiters are dressed in smart two-piece cream and brown tunics, whilst the waitresses sashay around in snappy cheong-sams. On the walls are original prints and posters of smiling dimpled girls from the 1940s. You can almost imagine Chiang Kai-shek and Soong Mei-ling sweeping in here for their Sunday brunch.
THE DIM SUM The range of dim sum is not particularly large but each dish is prepared with the trademark Tung Lok attention to detail and authenticity. There are three ways of ordering your dishes: you can place your order with the waitress; or you could queue up at the open-kitchen and lug trays of dim sum back to your table; or you could just wait for the metal trolleys to swing by, loaded with their treasures of fen guo (shrimp dumplings with vegetables, $2.20), siu mai (pork dumplings with crab roe and mushrooms, $2.20), glutinous rice with chicken ($3.20), char siew bao ($3.20), cheong fun (rice flour rolls filled with either barbequed pork or prawns, $4.20) and pan-fried water chestnut cakes ($2.20). I'm particularly partial to the trolleys. I rue the day when someone decided it would be a good idea to introduce the mark-your-order-on-the-form system. There's nothing quite like being able to pick and choose whilst craning your neck to see what the next trolley holds.
MUST TRY From the a la carte menu, the fried prawns with butter egg floss and kaffir leaves ($18 for small) is superb. The freshwater crustaceans are deep fried to within an inch of perfection and then tossed through with enough garlic and floss to kill a vampire at ten paces and skirting just under the surface, is the marvelous tang of kaffir leaves. The entire prawn should be eaten, head shell and all. The beef stir-fried with bittergourd is a revelation as to what a sublime vegetable the bittergourd can be if done properly. Also not to be missed is the sesame seed bun with salted egg yolk ($2.20) - small buns filled with a miraculously smooth sesame seed paste that manages to be both sweet and salty at the same time, mixed with the heady texture of the salted egg yolk.
RATING This place fills up quite quickly and it's packed on weekdays, so reservations are recommended. Overall, the Teahouse boasts Tung Lok quality cuisine at food-court pace.