The Lounge beds at Sip, W Retreat & Spa Maldives makes the cover of Cool Hotels Best of Asia 2010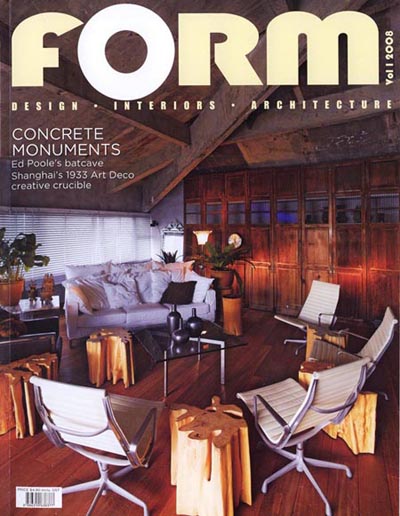 Our Penthouse living Room makes the cover of FORM 2008
Our studio foyer makes the cover of ISH : Fragments from an Urbanscape 2007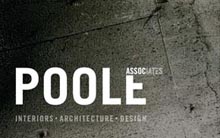 The front of our new card contains a graphic image of raw concrete, relating to the architectural background of the firm, as well as a reference to the brutalist 70's architecture of the building we reside in - Pearlbank. The image set on an angle, represents our flexibility to go beyond rigid formalist solutions.
The back of the card is done in 8 colors, unique to each employee. The bamboo motif relates to our SE Asia location and our recent award for design of 'Best Resort 2007'
in Travel+Leisure magazine, USA
Highlighted articles below do not appear on other pages of this website. To view them, click on the publication listed
Our work has been featured in the following.......
Singapore publications :
Form [Feb 2008] cover story
ISH : Fragments from an urbanscape June 2007 cover
The Straits Times
The Business Times
Where Singapore
The New Paper
Asian Hospitality Magazine | numerous issues
8 Days Magazine
ID Singapore
Interiors Quarterly
Singapore Commercial Design Trends
Singapore Architect
Apartment Living
SPACE Magazine
Wine and Dine
Men's Folio
My Home
Female
Her World
Cita Bella
Go
Elle
Expression
Mercedes
ISH: fragments from an urbanscape
China Mail
The Expat Singapore
The Peak
Home & Decor
D + A
Bathroom Today
Style
International publications include :
Top 100 Resorts | W Retreat Maldives

cover
Great Designers of The World Sixth Edition

cover
Asian Bar and Restaurant Design 2013 - EEST

Asian Bar and Restaurant Design 2013 - Sevenatenine

Asian Bar and Restaurant Design 2013 - Baize

Asian Bar and Restaurant Design 2012
Bali by Design
Cool Hotels Best of Asia | cover
The World's Greatest Hotels, Resorts and Spas 3rd ed.
Wallpaper [March 2008 ]
The Financial Times | Feb 9th 2008
New Spas & Resorts | HarperCollins 2007 | W Retreat Maldives
Condé Nast Traveler 09.2007
Asian Bar and Restaurant Design 2007
Travel+ Leisure March 2007 [awards] w Retreat
Harper's Bazaar : KL
Posh Nosh, Cheap Eats + Star Bars Dubai
Hip Entertaining bars + restaurants 2006
Groovy Homes : Sexy and Delicious Living Spaces 2005
Going Places : Inflight Magazine of Malaysian Airlines
AstroGuide Dec 2005 : Kuala Lumpur [cover story]
AstroGuide July 2005 : Kuala Lumpur [cover story]
Wallpaper* 10.2004
Time Out Dubai
Interiors International, USA
New Chinese Cuisine
100 Designers' Favorite Rooms, USA
Australian Commercial Design Trends, Australia.
World Architecture, UK
Zenith : Issue No.2
East: Launch issue
Hinge [Hong Kong]
Time Magazine, Asia edition
Interiors : USA
Commercial Design Trends, USA
Home and Apartment Trends, USA
Cream. International
Interior, vol 128 : Taiwan
CNN Traveler
Middle East Hotelier
Architecture Asia - June 2005
The Star, KL
Nox [Madrid] Primavera Verano 2005
Spa Asia - Nov|Dec 2006
Television Interviews include:

AM Singapore
D.sign: Premier 12, Singapore
Television Features include:
Arts Central : [program aired December 2000]
Projects featured : Cafe Iguana, Front Page, Club Eden
Channel News Asia : Bobby's [December 2006]
Television Features denied:
thanks for the offers
At Home with.....[2000], Arts Central
Art Nation - feature : 3rd June 2002
Amazing Homes TCN Channel 9, NSW Australia