ZENITH MAGAZINE
By Caroline Chng : April 1999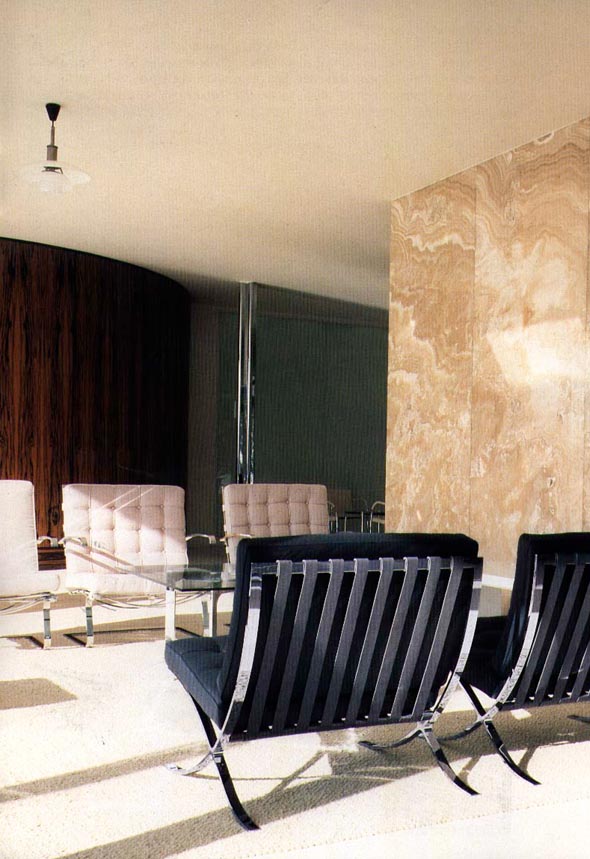 Alivar was commissioned to furnish the main reception room of the Tugendhat Villa with its products. Mies van der Rohe designed the villa, where the idea of flowing space was first developed in practice.
A Gerrit Thomas Reiveld armchair. Maufactured by Alivar, now at X-Tra Living, it is made from solid beechwood and plywood; Left: Le Corbusier's Chaise Longue Experimental Prototype. One of these chaise Longue Prototypes was sold to the Maharajah of Indore who used it in his palace with a mattress covered in leopard skin. Now, Alivar uses leather, found at X-Tra Living.
When finished in natural wood, the Tavol's graining on the legs runs in the same direction as that of the sides of the top, with no visual breaks. To quote interior architect and designer Ed Poole, "trees grow vertically, not sideways". Such is Mies van der Rohe's attention to the inherent nature of materials. From Alivar, at X-Tra.
Mies' Barcelona Chairs in white, alongside a standing Fortuny Lamp in an interior designed by Poole Associates for the Hong How Group.
Additional text and photos go to: Penthouse III, Hong How Corporation
M O D E R N I S M
The arrival of a new millenium is greeted with speculation. Paradigm shifts in interior design are expected. But history has proven that interior design milestones do not succumb to such spontaneous periodic labeling. The notion of 'milestone' is different from that of 'trend'. A milestone refers to a significant stage of development after it has conquered socio-political hurricanes.
The Designers who Defied Mediocrity
Milestones are the result of designers who brave convention. After the Russian revolution, the transition to socialism saw designs that avoided pretension - especially in denoting the superiority of one design over another in terms of ostentation.
Such designs did not go to well in most of the Western world though, having only gained popularity among the thinkers. The rulers of Nazi Germany much preferred the attributes of the glorious eras to echo their power.
Although Modernism was better accepted by the Scandinavians then, the maestros Mies van der Rohe (1886-1969) and Le Corbusier (1887-1965) were born in Germany and France respectively. With their architectural birth, Modernism infiltrated the larger society. Le Corbusier's career reached its peak after the Second World War, when Europe was in ruins. He was commissioned with rebuilding tasks.
Le Corbusier's Unite d'Habitation (1946-1952) consisted of 337 flats in a single area complete with stores, areas for sport, etc. Mies also built flats. His meticulous spirit could be observed through his prohibition of balconies in the 860-880 Lake Shore Drive apartments in Chicago, Lest they upset the immaculateness of the first true curtain wall. His designs for furniture too, are equally thought-provoking.
At the X-Tra Living showroom in Park Mall, director Lim Choon Hong showed me a picture of the Mies-designed Tavolo 337 (Tavolo is Italian for table) from the Alivar collection. To me, it was plain, very plain. To Lim, it was a design breakthrough. Why?
The Tavolo is popularly known as the Parsons table. An essential characteristic is that the thickness of the top tends to be greater than the width of the leg. This detail is called "optical correction" since its apparent purpose is to create a distinction between the horizontal and vertical elements to reduce visual ambiguity.
In addition, when finished in natural wood, the graining of the legs of the Tavolo runs in the same direction as that of the top. There is no visual break in the veneer or wood where the leg joins the top. To quote interior architect and designer Ed Poole of Poole Associates, "trees grow vertically, not sideways".
Other acclaimed furniture pieces featured in the Alivar Collection include those of Gerrit Thomas Rieveld, Charles Rennie Macintosh and Josef Hoffmann. Rietveld's zigzag chair truly lives up to its name, while Mackintosh-designed furniture is known for its careful details. Josef Hoffmann's Poltrona 621 armchair or Divano a due posti two-seat sofa may be more curvaceous, but they are nonetheless straightforward, characteristic of modern designs.
Less is More, or Less is a Bore?
Some view modern furniture as 'cold', and are especially skeptical of Mies' maxim of "less is more". Some say Philippe Starck is stark. Most would prefer the warm look of a Queen Anne arm-chair, or sofas that are complemented by frilled cushions.
Modern furniture is renowned for its straightforward designs, and feasibility. It certainly is not gimmicky. We do not discredit classical period pieces out there. Think of a table with more metal parts than it can handle, or a stool with legs that resemble those of an octopus - curves just for the sake of curves. Modern furniture does not resort to sensationalized means to grab your attention as you view an interior.
Danger signs
"Singapore is a signatory to the Berne Convention, where copyright laws relating to intellectual property extend to most of the known world," explains senior legal assistant Audrey Eng. When a designer dies, the copyright protecting his/her designs belongs to his/her estate for 50 years. When the 50 years are up, the designs belong to the public domain, and anyone can reproduce these designs without legal implications.
As for bad reproductions, we can only cry "sacrilege". Some reproductions truly fall short of the works of the masters. There are bad reproductions of the famous Chaise Longue a reglage continu by Le Corbusier. Le Corbusier built it as the "real machine for rest", with the tubular steel as its frame. A significant reduction in the thickness of this important steel can be observed with inferior copies. The leather to be placed on top of the steel structure is often bad too.
Dedicated enthusiasts of the Bauhaus (School of Arts founded in 1906) set up Alivar, represented here by X-tra Living. These enthusiasts have no intention of compromising the standards achieved by the masters. In fact, in 1995, A.M.O.S. Brno commissioned Alivar to furnish the main reception room of Villa Tugendhat with its products in 1995.
This was a crucial project with political and social implications. Mies van der Rohe designed the Tugendhat Villa, built in 1929-30 in Brno, the second largest city in the Czech Republic. The Villa is where the idea of flowing space was first developed into practice. The owners had to abandon it in 1938 during the occupation of Czechoslovakia.
The Villa was later destroyed by bombardments and part of its furniture was destroyed. After the War, it was restored and used for civic functions. Since 1995, the Villa has been used as a museum. Alivar refurbished it with furniture designed by Mies, including the Tugendhat chair and the Poltroncina 305 armchair.
In Your Home
How do you incorporate modern furniture into your home? Probably the most important factor is that you feel comfortable.
Ed Poole was trained by architectural professors who studied directly under Mies. He is an advocate of Mies' original intentions, and is wary of arrangements that lift classical modern furniture out of context. "For example, Mies always had the Barcelona chairs appear in a pair next to each other, as they were designed as Royal thrones. But it is not hard to spot a solitary Barcelona Chair in homes or stores in Singapore, placed on an angle." Appearing with the chairs would be the Dessau table and a singular Barcelona footstool.
As I mentioned earlier, modern designs were at first not very well-received. Today, the original works of the designers have become dear items at auctions. At the Sotheby's 20th Century Design sale in London, 2 March 1999, the estimated price of the only existing contemporary gelatin of Le Corbusier's Villa Savoye project was 5,000 - 6,000 Pounds Sterling. The original trace from which this gelatin was made was subsequently defaced, and now found in the Le Corbusier foundation archive in Paris. That one is not even for sale.
Cesare Bernasconi - Thank you for your comments ! (below)
Zenith Magazine stands corrected :
From: Cesare.Bernasconi@rtsi.ch
To: contact@poole-associates.com
Subject: False information
Date: Thu, 4 Jul 2002 16:59:23 +0200
In http://www.poole-associates.com/zenith.htm the author wrote "Although Modernism was better accepted by the Scandinavians then, the maestros Mies van der Rohe (1886-1969) and Le Corbusier (1887-1965) were born in Germany and France respectively." I think that even an undergraduate student knows Mr. Charles-Edouard Jeanneret ( Le Corbusier) was born in 1887 at La Chaux-de-Fonds, Switzerland ... not France! I'd like to emphasize Switzerland (and especially THAT corner of French-speaking Switzerland) not because I'm Swiss, but because it 'culturally' shaped young Le Corbusier's spirit. If you knew that place (and I know it very well) you'd understand how important his biography is: -he grew up in a region where the watch-making industry is (or was) part of a 'culture' based on precision and love for the detail; -the town of La Chaux-de-Fonds soon appeared too small to Le Corbu's genius (furthermore, the town lacked work opportunities other than the above-mentioned watch-making industry) : this is the reason why he (like Mr. Louis Chevrolet - the founder of US Chevrolet car company) had to leave Switzerland. He traveled extensively across Europe. His curiosity and his need for more and better knowledge might be partly explained by his Swiss origin. When you're a genius and happen to grow up in a small town, in a 'closed' alpine environment you're more likely to develop a sense of individual initiative and an almost obsessive (and definitely strong) need to discover the world. An early, let's say, Parisian education would have probably left him without that strong determination and bright character just because when you're in Paris (and we're talking here of a culturally-thriving fin-de-siècle Ville Lumière!) you'd think you're "au centre du monde"!
This is my personal opinion. Nonetheless, as a matter of fact Mr Le Corbusier was Swiss. Not French. Talking of Modernism (in its broad sense) France has other brilliant architects and furniture-makers but if you narrow it down to Bauhaus I don't think France, halas, produced outstanding talents! Next time you write an article make sure you have the correct biographical information. It takes a few seconds to grab an encyclopedia!
SWISS BROADCASTING CORPORATION